Chocolate Eclairs with Custard Filling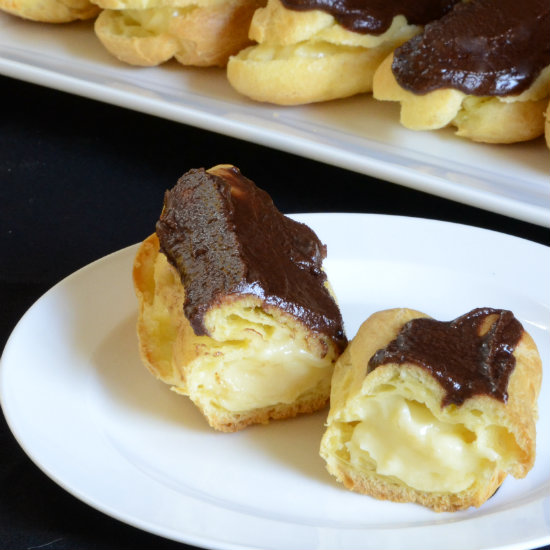 Amazingly simple, three recipes in one. The sequence is important … cook custard or pudding first, follow with preparing the pastry, and lastly, the icing or glaze. My glaze was done just a little too soon and became a little difficult to spread or dip.
A family owned bakery in our little town perfected this eclair and offered it with either custard or whipped cream filling. Our family preferred the custard filling but often didn't get to the bakery before they were sold out. Now the bakery is gone and eclairs are even harder to come by.
So, here is my recipe! And yes, I believe I may like these better. There is something about making it yourself!
Recipe
Preheat the oven to 400 degrees F for the pastry
This recipe makes 14 medium sized eclairs, 5 and 1/2 inches long by 2 inches wide after baking
Pudding
Cook the pudding first. This will give sufficient time for the pudding to cool to room temperature before you fill the eclairs. I use a simple vanilla pudding recipe. If you prefer something richer you can fold in whipped cream. This makes a richer but not necessarily a better filling. This is an option.
2 1/4 Cups milk-2% or higher
1/3 Cup flour
2/3 Cup sugar
1/4 teaspoon salt
2 Eggs-slightly beaten
1 and 1/2 Teaspoons vanilla
2 Tablespoons butter
In a medium size saucepan add the dry ingredients. Whisk. Slowly add the milk while whisking. Over medium heat bring the mixture to a simmer or low boil. Cook this thickened mixture for two additional minutes at this low boil, turning heat down as needed to avoid burning. Remove the pan from heat. Remove and stir about 1/4 cup of this warm mixture into the slightly beaten eggs. Add the egg mixture to the warm thickened mixture in the saucepan and continue cooking until it reaches a simmer. Cook about 30 seconds. Remove from heat. Add the butter and vanilla and mix. Set aside to cool.
Pastry
Preheat the oven.
1 Cup water-boiling
1/2 Cup butter-room temperature
1 Cup flour
1/4 Teaspoon salt
4 Eggs
In a medium bowl add the boiling water to the butter and allow butter to melt. Add the flour and salt to this after the butter has melted completely. Stir all quickly until the batter follows the spoon around the bowl. With a mixer on medium speed add one egg at a time and mix in thoroughly. Now for the following use a pastry bag or use a plastic bag with about 1/2 inch cut off the corner.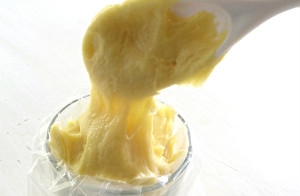 Fill your pastry bag or plastic bag.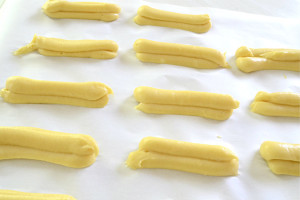 Pipe batter onto a parchment covered cookie sheet and space about 2 inches apart. Each piping should be about the size of a regular sized frankfurter/hot dog. When I was doing this my strip was not large enough. This can be seen in the photograph. I overlapped to produce the size I needed. Not sure I recommend this method. A bigger hole in the plastic bag would work better.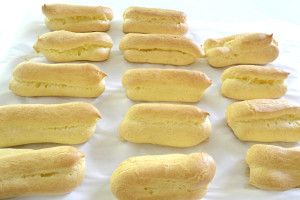 Bake in the preheated oven for about 30 minutes until golden brown.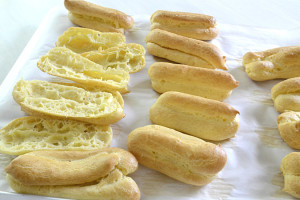 I have cut these in half to show the nicely textured inside. You can cut these in half to fill them. Or if you'd like you can pipe through holes placed on both ends. I prefer to cut them in half. You can add a layer of sliced bananas over the filling if you use this method. I did use a pastry press to fill the eclairs but there is no need if you cut them. Just place generous dollops along the bottom and replace the top.
Chocolate Glaze
One ounce square unsweetened chocolate-melted
2 Tablespoons butter
Dash of salt
One cup of powdered sugar
Cream or water to thin-use a tablespoon or less to begin
Add the butter to the melted chocolate. Add the salt and powdered sugar and stir by hand. At this point water or cream will need to be added to thin. Stir vigorously. As the chocolate cools the glaze will begin to thicken. You can choose to dip the eclairs in the chocolate which I tried but felt it was out of control. So, allow it to thicken slightly and spread over the top of each eclair.
I hope you enjoy! We did!