Chop Suey and More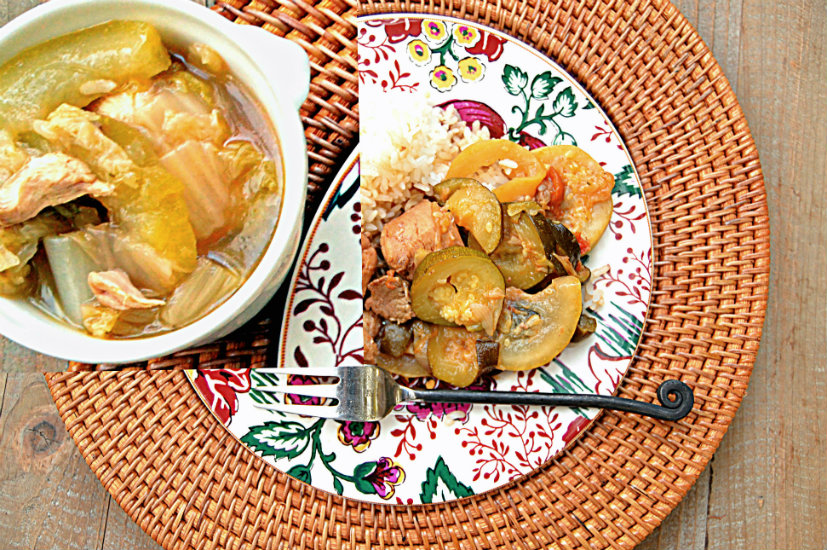 When I introduced Roselyn's Chicken or Pork Adobo recently there were two other dishes pictured … A delicious Chicken Soup (eliminate the chicken for a delicious medicinal ginger version) and Chop Suey. Enjoy these wonderfully simple recipes. Thank you again my friend.
Recipe 1
Chicken Soup
2 Chicken breast halves (no skin or bones)-cubed-pan sear quickly to seal meat
4 Cups of chicken broth
4-5 Inch piece of fresh ginger-don't peel the entire piece-break into 3 pieces & smash slightly
5 Baby bok choy-washed thoroughly-slice off end and slice along the length
1 Head of napa cabbage-cut off tough end and wash leaves thoroughly-roughly chop
1 Opal-peel and slice 1/4 inch
Salt to taste
In a medium size skillet sear the chicken quickly in a high heat oil over medium/high heat.
In the meantime, simmer the ginger in the broth.
Add all vegetable ingredients and simmer until slightly tender.
Add the chicken and cook through. This may take less than 10 minutes.
Add salt if needed.
Recipe 2
Zucchini Chop Suey
2 Tablespoons sesame oil
Cornstarch for dusting on meat
1 Pound pork tenderloin
4 Cloves of garlic-chopped
1 Medium yellow onion-chopped or sliced
4 Medium zucchini-sliced
1 Opal-peel and slice
1 Tomato-chicken boullion cube-dissolved in 1/2 cup warm water
Salt or soy sauce to taste