Chunky Root Soup Just Happens to Be Vegan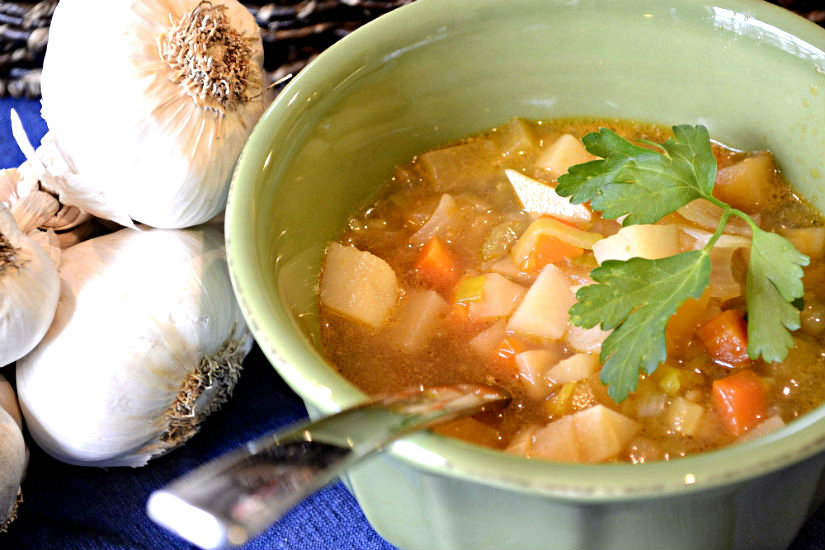 Root soup is a winter necessity on these icy cold days. It's a little early for Saint Patrick's Day but you might find this served along with corned beef or beef brisket. It's just a wonderful meal all alone. Light enough to have several servings.
Eat it chunky like this or use a blender to give it a creamy texture. I prefer it this way.
If you use prepared vegetable broth this can be ready to eat in 30-40 minutes. I like making my own vegetable broth … my recipe in the previous post. This is a rich recipe not requiring butter or chicken broth. Absolutely the best!
Recipe
Serves 8 adults
2 Tablespoons olive oil
1 Leek-sliced thin, remove the darkest green top and discard
1 Yellow onion-diced
1 Large shallot-diced
2 Cloves of garlic-minced
1 Medium celery root-diced (or 4 celery stalks or combination of both)
3 Parsnips-diced
3 Carrots-diced
4 Red potatoes-diced
1 Large turnip-diced
16 Cups vegetable broth-see recipe in previous post Vegetable Stock and Broth
Salt and Pepper to taste
Garnish with Italian parsley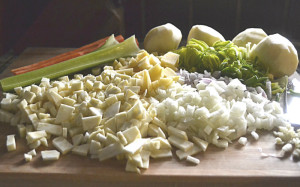 Dice all the vegetables with exception of the leek. The leek is sliced thin.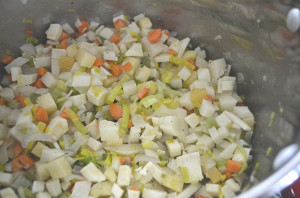 Heat the oil over medium heat in an 8 quart pot. Add the onion, shallot, leek, garlic, and a few of the other vegetables to cover the bottom of the pot. Cook until tender and just beginning to turn in color. Add the broth and remaining vegetables. Bring the mixture to a simmer and cook until the vegetables are tender. Serve with a garnish of parsley.