Delicious, rich, cinnamon Spicy
cinnamon cocoa Sheet Cake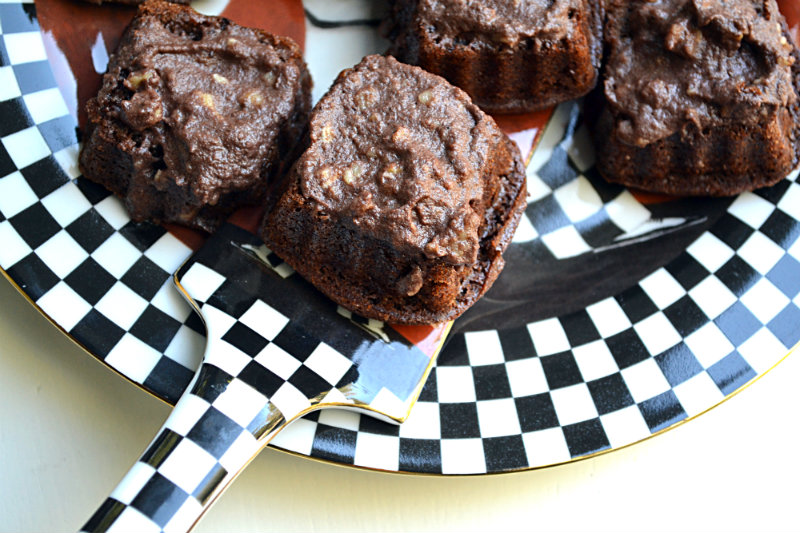 This rich cake is a favorite of Aubree's. Dressing up a sheet cake is difficult because the batter is very rich and meant to be baked in a thin layer. But if it is a special birthday what do you do? I have layered this cake … Not so pretty. Here I used a 12 section quiche pan with 12 false bottoms. And at the end of baking I had twelve blobs of very cooked batter at the bottom of the oven. Small cupcakes did pretty well. So, this is what I suggest for a birthday if this is the favorite cake, a tower of cupcakes. This recipe will make 24 small cupcakes.
Recipe
Bake at 350 degrees F for approximately 15 minutes.
Makes 24 cupcakes or one sheet cake
1 Cup unsalted butter–room temperature
2 Cups sugar
2 Eggs
2 Cups all purpose flour
1 Teaspoon baking soda
1 Teaspoon cinnamon
4 Tablespoons unsweetened cocoa
1 Teaspoon salt
1/2 Cup buttermilk (or 1/2 cup milk with 1/2 teaspoon white vinegar added, let set 5 minutes and stir)
1 Cup milk
2 Teaspoons vanilla
Mix on medium speed first three ingredients until creamy. On low slowly add dry ingredients alternating with buttermilk and milk. Lastly, add vanilla. Pour into papered cupcake tin or buttered cookie sheet with a one inch lip.
icing
1/2 Cup unsalted butter–room temperature
2 and 1/2 Cups of powdered sugar
4 Tablespoons of unsweetened cocoa
1/4 Teaspoon salt
1/4 Cup cream or milk
1 Teaspoon vanilla
1 Cup chopped nuts
Mix all ingredients except nuts until creamy. Add nuts. For the sheet cake: Ice while hot. For the cupcakes: Add more powdered sugar as needed for desired spreading consistency. Spread on cooled cupcakes. Make a tower of cupcakes for the birthday girl.
Try this Cinnamon Cocoa Sheet Cake! Aubree's Fav!