cinnamon rolls for Those Special Mornings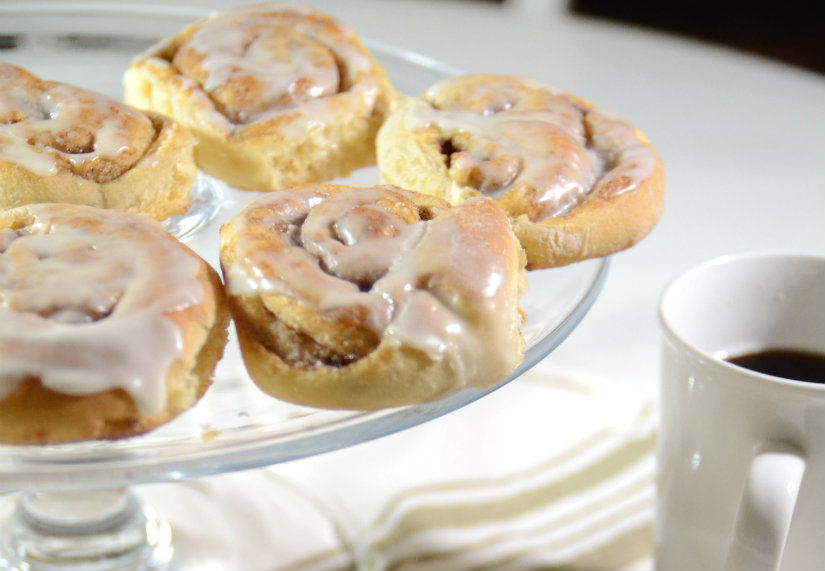 Whip up this recipe in minutes … Minimal ingredients you most likely have in your pantry … You'll need a little time for these to rise but this definitely is not a labor intensive recipe. And did I forget to mention … they're delicious!
My daughter will be here early morning and I may miss her arrival, a commitment. But I've already prepared a lovely welcome for her with these much loved cinnamon rolls.
Recipe
Bake in a preheated oven at 375 degree F until lightly brown, about 20 minutes
Makes approximately 9 large rolls or 18 small rolls
2 Scant teaspoons of active dry yeast
2 Tablespoons warm water
1/2 Cup granulated sugar (1/4 c for filling and 1/4 c for dough)
1/2 Cup milk-scalded
4 Tablespoons butter (2 T for filling and 2 T for dough)-room temperature
1/2 Generous teaspoon salt
1 3/4 Cup all purpose flour
1 egg
1 Teaspoon ground cinnamon (for filling)
Raisins, nuts optional for filling
Dissolve the yeast in the warm water and set aside.
Add the 1/4 cup sugar, 2 T butter and salt to scalded milk, mix, and set aside to cool.
In a medium sized bowl measure 1/2 the flour, approximately. Mix in the milk mixture. The dough will be sticky. Mix well. Don't be timid.
Add the yeast-water mix and the egg. Then add the remainder of the flour. Again the dough is sticky.
Place the dough into a greased bowl. Turn over the dough so all sides will be greased. Cover and let rise until double in size. About 2 hours.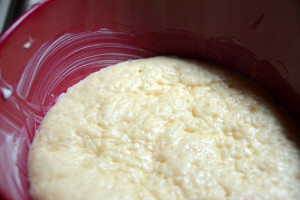 This is the first rise.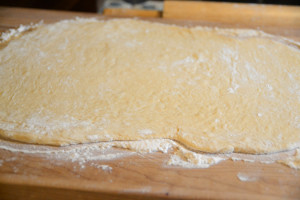 After the first rise roll the dough approximately 9 inches by 18 inches. The dough will not be stiff and tends to stick. Be sure to flour your surface.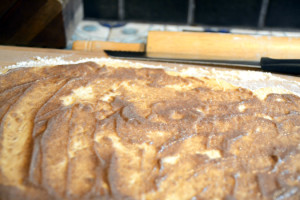 Mix the 1/4 c sugar, 2 T butter and cinnamon together and spread over the dough. Sprinkle chopped nuts or raisins if you like. Now roll up the dough. If you roll small end to small end your cinnamon rolls will be larger. If you want smaller cinnamon rolls roll the large end toward the large end. Now slice the dough about every inch.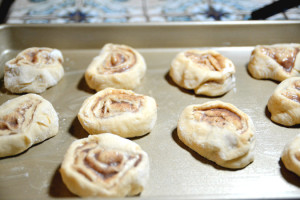 I opted for the larger cinnamon roll. Place the cut side down onto a greased cookie sheet, for crusty edges space them … Or, place into a greased oblong pan for a large cluster of rolls baked together. For about 40 minutes cover the cookie sheet or pan and let the dough double for the second time.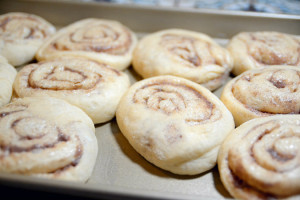 This is after the second rise. Ready for the oven.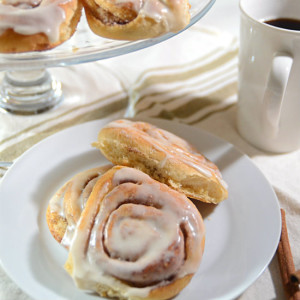 After the rolls have cooled slightly add a glaze or icing.
Icing
1 Cup confectioners sugar
1 Tablespoon butter-room temperature
Sprinkle of salt
1/4-1/2 Teaspoon vanilla
Cream-start with a tablespoon and add more if needed
Mix these ingredients and spread onto cooled rolls, or drizzle across the rolls.
Now for the best part … Eat!