Coconut Cake with Caramel Rum Sauce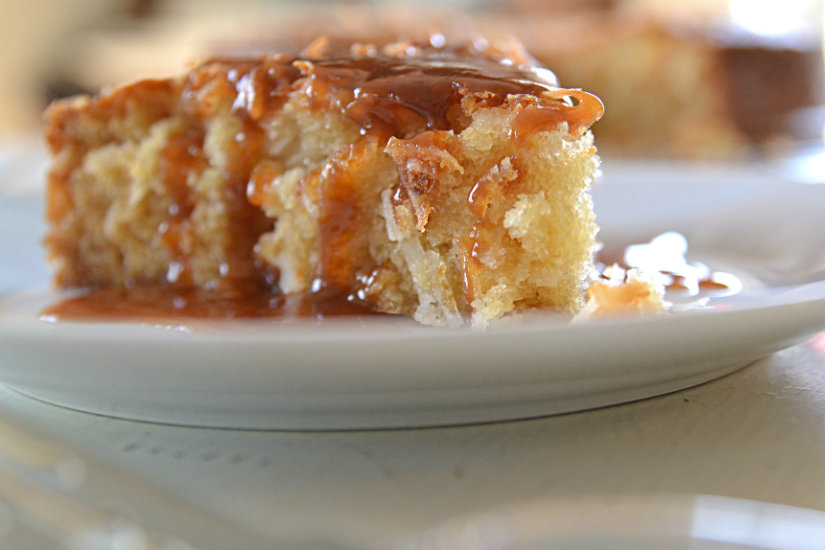 How about this for Valentine's Day! A single layer cake rich with sour cream and cream of coconut. A classy dessert for Mother's Birthday too … coconut being a favorite! This rich little cake with decadent caramel rum sauce serves 10. You'll be prepared when your Valentine asks for seconds.
Another recipe with no record of its origin. Yep, right out of Mother's recipes. Delicious! Enjoy! And Happy Valentine's Day!
Recipe
Preheat oven to 350 degrees F
Grease or vegetable spray a 9 inch springform pan
1 Cup all purpose flour
1 Teaspoon baking soda
1/2 Cup butter-room temperature
1 Cup Sugar
2 Eggs
1 Tablespoon Vanilla
1/2 Teaspoon almond extract (You will taste this in the cake. Decrease by half if you only wish for a hint of this flavor.)
3/4 Cup sour cream
3/4 Cup shredded sweetened coconut (Additional 2 T for sprinkling)
1/4 Cup cream of coconut (Look in the Piña Colada section of the grocery store.)
Measure and whisk together the flour and baking soda. Set aside.
Beat butter and add sugar. Continue beating until fluffy. Add vanilla and almond extract. Beat. Add one egg at a time and beat after each.
Gradually add flour to the butter/sugar/egg mix. Only mix until incorporated.
Add sour cream, coconut and cream of coconut. Mix again just until incorporated.
Pour batter into prepared springform pan. Sprinkle with the 2 T of coconut.
Bake for 55-60 minutes. Check for doneness with a wooden screwer or toothpick.
When done remove to a wire rack and completely cool. Remove the side of the springform … you may need to run a knife around the edge first.
Serve with sauce.
Sauce
1/2 Cup sugar
2 Tablespoons water
1 Tablespoon dark rum
2 Tablespoons butter
1/2 Cup whipping cream
In a heavy bottomed saucepan add the sugar and water. Mix. Turn heat to low and dissolve. Once dissolved turn heat to high but not red burner high. Once the sugar water begins to boil do not stir. Allow the mix to turn to an amber color. Then remove from heat. Be aware the color change happens quickly. Do not leave unattended.
Carefully add the tablespoon of rum. Caution, the mixture will bubble with the addition of this cooler substance.
Whisk in the butter and whipping cream. Place back on the burner at low/medium heat stirring until the mixture begins to boil. Turn heat down to low and allow a low boil, stirring occasionally, until the mixture has reduced in amount and thickens.
Serve warm. Store in the refrigerator. Rewarm at a low temperature.