Pumpkin Bread
With Coconut Pecan Topping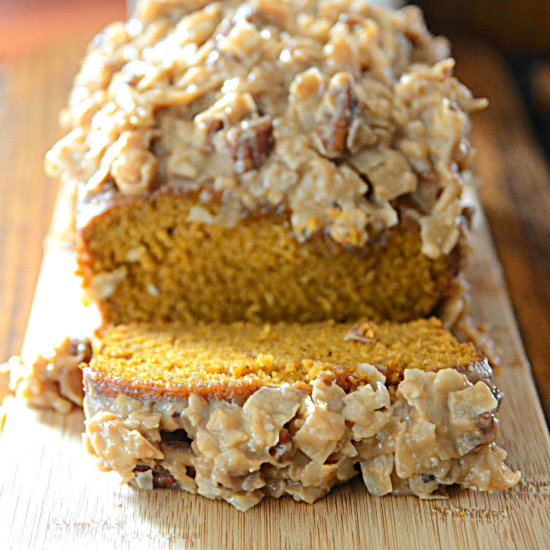 This is the best Pumpkin Bread! Topped with a deliciously rich Coconut Pecan Frosting. Slather the bread with this topping or go it alone. I'm telling you … You won't be disappointed! I'm just on this pumpkin thing … trying to bring about Fall for some cooler weather. Well, today it's 105! Yikes!
Both of these recipes, bread and frosting, I've had for years for good reason.
Enjoy!
Recipe
Preheat oven to 350 degrees F
Prepare a loaf pan by buttering or oiling and then dust with flour
1/2 Cup (your choice) butter or shortening or vegetable oil (I used half butter and half shortening)
1 1/2 Cup sugar (I used super fine)
2 Eggs
1 Cup pumpkin puree (unsweetened, not the premixed pie filling)
1/3 Cup Water
1 3/4 Cup all purpose flour
1 Teaspoon salt
1 Teaspoon baking soda
1/2 Teaspoon of each of these: nutmeg, allspice, cinnamon
1/4 Teaspoon cloves
I prefer doing all the mixing my hand for this bread. Butter, if used, must be at room temperature.
Measure all the dry ingredients into a medium sized mixing bowl and whisk.
Whisk aggressively the butter or shortening to fluff. (Not needed for oil) Add sugar and beat by hand until light and sugar is melting away. Add the eggs and beat again until light and fluffy.
Add the pumpkin and mix in thoroughly.
Now alternate adding the dry mixture (into the pumpkin mixture) with the water.
Pour into your prepared loaf pan and bake for 30 minutes to 60 minutes. This time is quite varied but doneness depends on your loaf pan size & material, and your oven. My oven took a full hour. You pretty much can tell if more time is needed just by looking at the bread. The top will be wet and slightly indented if not done. Be sure and check doneness … with a long wooden skewer is best.
Let rest 10 minutes before loosening from pan and removing.
Frosting
6 Ounces of evaporated milk
3/4 Cup brown sugar, dark or light
6 Tablespoons butter
Pinch of salt
2 Eggs
1/2 Teaspoon vanilla
3/4 Cup roughly chopped pecans
2 Cups unsweetened coconut flakes
Over medium to medium-low heat in a medium saucepan add the milk, sugar, slightly beaten eggs and salt. Whisk together and continue to whisk during the cooking until thickens. Usually takes 10-12 minutes and sauce will almost come to a boil. This will thicken to an almost pudding consistency but not quite. Remove from heat and add the vanilla, pecans and coconut. Let cool before using.