Easy Cinnamon Toast
Holiday Style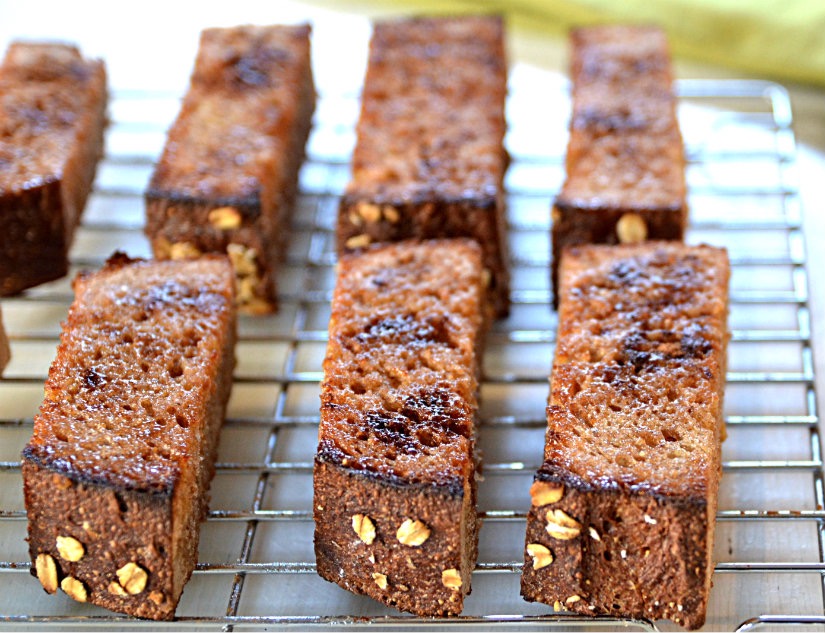 One of Will's favorites for breakfast! My oldest son is a little more particular now that he's decades older. This doesn't mean the taste of this favorite has changed. BUT the presentation has. The white bread has been replaced with any number of breads depending on our mood or availability. Cranberry Nut and Raisin Bread are favorites. Really dress this up with sanding sugar or pearlized sugar crystals (not too many) for that special brunch or breakfast. This is really simple and on the table in about 15 minutes. That's pretty important especially for those Holiday breakfasts when you need to get family out of the kitchen fast, and move on to dressing the turkey. Enjoy!
Broiler on HI
Usually less than a minute cooking time per side
This is a large multigrain loaf in my photo. Not pre-sliced. I suggest slicing your own bread to get a nice thick 1 to 1 1/4 inch slice. I cut the crust off the sides of the slice but left the top and bottom crust untouched. Two of these cinnamon bread sticks are plenty per person especially if your bread is rather heavy or rich.
Salted butter-1 teaspoon per cinnamon bread stick
1-2 Teaspoons ground cinnamon, more for sprinkling
1/2 Cup granulated sugar
Optional: decorative sugar
After cutting the bread into one to one & one-fourth inch slices, cut each slice across at one to one & one-fourth inch cuts, creating a "stick" of bread.
Mix the cinnamon (1-2 t) with the sugar and place into a flat bottomed bowl to accommodate bread stick length.
Butter each stick on all four lengths. Roll into sugar/cinnamon mix. Place on a rack (see photo) that has been placed onto a baking sheet.
Sprinkle extra sugar/cinnamon on the exposed top, decorative sugar if you have. Lastly sprinkle with cinnamon.
Place under the broiler, top rack, and watch carefully. This may take less than a minute. Just keep checking until the sugar is melted (table sugar will melt not decorative) and toast is slightly brown.
Remove from oven and with tongs turn the stick over. Top is now on bottom.
Sprinkle the exposed surface with sugar/cinnamon, decorative sugar. Lastly sprinkle with cinnamon.
Place under the broiler again until this surface is done, sugar melted and toast slightly brown.
Serve with syrups if you like.
Also, for a twist use pumpkin pie spices instead.