Country String Beans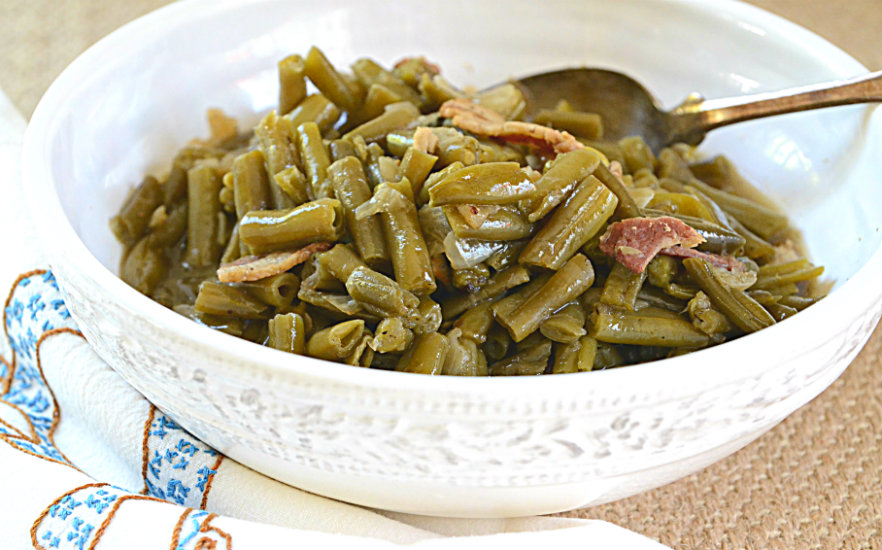 Simple food is used to describe this green bean dish. This recipe is from my childhood days … And it actually involved string beans, now modified into the green beans we find today. String beans when snapped had a string along the side of the bean … giving the name. And if I remember correctly these beans were a little tougher too.
This recipe requires an hour of cooking time. The texture and the color are far different from the al dente bright green beans we see today.
Several have requested I post this recipe. The simple truth is I love these beans, too!
Recipe
3 Thick slices of bacon-cut into one inch pieces (pepper treated bacon if you like)
1 Large yellow onion-diced
2 Pounds of frozen cut green beans
1 Teaspoon salt
1/2 Cup water
Use a lidded pot or dutch oven from start to finish.
Cook the cut bacon over medium heat, layering the slices over the bottom of the pot.
As the bacon begins to brown add half the onion and continue cooking until onion is limp and slightly golden.
Add the second half of the onions and continue cooking until all is golden and somewhat brown.
The drippings are important. Scrap from the bottom to incorporate.
Add the frozen green beans and 1/2 cup of water.
Turn the heat to low, place the lid and bring all ingredients to an even temperature.
Simmer for one hour.