Cranberry (or Raisin) Spice Drops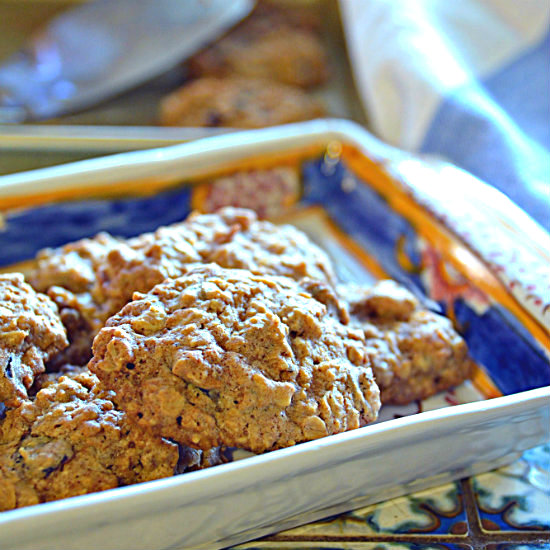 Influenced by a Quaker Oats recipe. A little different take on an oatmeal cookie. Crispy edges surround this buttery spicy cookie. A great change up.
Here are a few previously posted Oatmeal Cookie or Bar Recipes you may enjoy too!
Recipe
Preheat oven to 350 degrees F
Use a non-stick cookie sheet or use parchment paper covered cookie sheet
1/2 Cup plus two tablespoons butter-room temperature
1/3 Cup brown sugar-packed
1/3 Cup granulated sugar
1 Egg
1/2 Teaspoon vanilla
1/2 Cup plus 2 tablespoons all purpose flour
1/2 Teaspoon ground cinnamon
1/4 Teaspoon baking soda
1/4 Teaspoon salt
1/8 Teaspoon ground nutmeg
1 1/4 Cup oats-quick or old fashioned
1/2 Cup dried cranberries
1/2 Cup chopped walnuts
Cream the butter with sugar until well mixed. Add the egg and beat until fluffy. Beat in the vanilla.
Whisk the next five (dry) ingredients in a separate bowl. Set aside.
Add the oats to the butter mixture and incorporate well.
Now slowly add the dry ingredients to the mix. Do this slowly until just incorporated.
Stir in the cranberries and walnuts.
Drop dough by spoonful onto your cookie sheet separating each by approximately 1 1/2 inch.
Bake for 10-15 minutes or until the cookies are slightly brown on top.