Cream Cake with White Chocolate Frosting
Italian Cream Cake Undone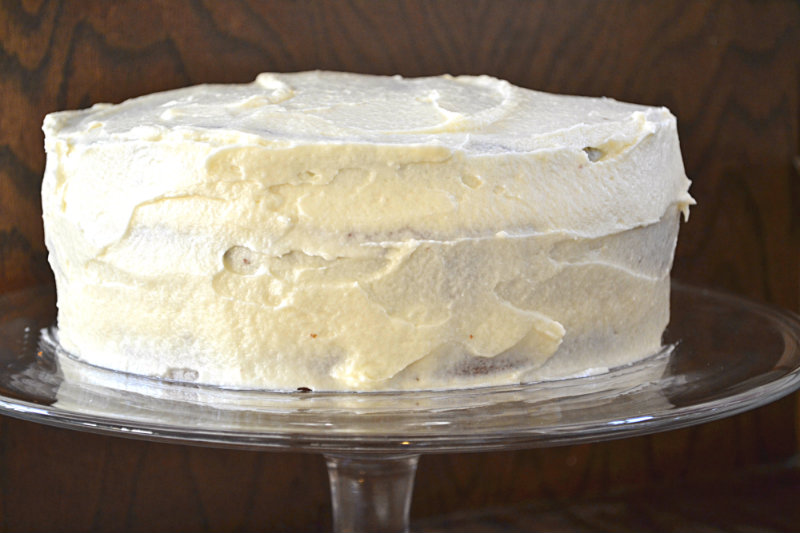 This delicious yellow cake is a simple version of my Italian Cream Cake. When the coconut and pecans in the original recipe are removed the crumb of the cake changes to a light fine texture. Coconut is a taste and texture not all appreciate. The cream cheese frosting has been changed as well for the same reason. Yep, this was changed up for a special birthday.
 Recipe
Bake 325 degrees F for 20-25 minutes if using three 9 inch cake pans.
Use three 8 inch or 9 inch round cake pans.
5 Large eggs, room temperature and separated
1/2 Cup butter-room temperature, if unsalted used increase salt by 1/4 teaspoon
1/2 Cup shortening
2 Cups sugar
2 1/4 Cups flour
1 Teaspoon baking soda
1 Cup buttermilk
2 Teaspoons vanilla
1/2 Teaspoon salt
Measure the dry ingredients in a bowl: flour, salt, soda. Whisk.
Measure the sugar, butter and shortening into another bowl.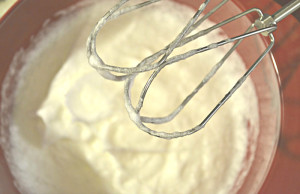 Beat egg whites to stiff peak. Set aside.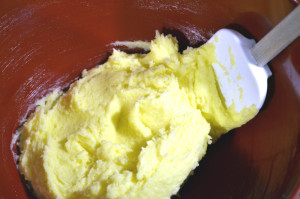 Beat sugar with butter and shortening until well mixed. Then add one egg yolk at a time, mixing after each addition.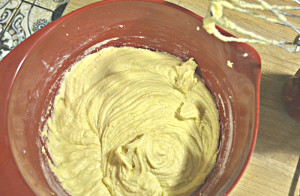 Add dry ingredients and buttermilk, alternating. Add vanilla. Careful not to over mix.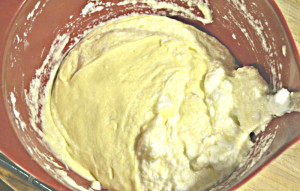 Fold egg whites into batter. Divide the batter equally between three cake pans. Cut parchment to fit in the bottom of the pan. Butter the pan under the parchment and on top of parchment as well as the sides of the pan. Dust with flour. 9 inch cake layers will be thin.
Frosting
6 to 8 Ounces of white chocolate (white cookie chips will not work)
2 Cups, and more as needed, powdered sugar, whisked or shifted
1/2 Cup butter
1 Teaspoon vanilla
1/4 Cup cream or as needed to thin to spread
Salt to taste
Melt white chocolate in microwave. White chocolate tends to be very soft and melts quickly. Check frequently.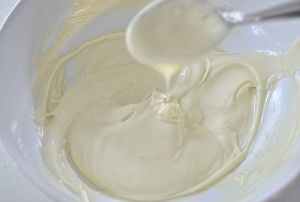 This chocolate melted in 15 seconds.
Butter not quite at room temperature. Place all ingredients in a bowl and mix by hand until all ingredients moistened. Add cream a tablespoon at a time.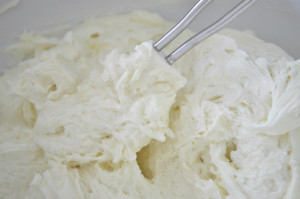 With mixer beat until the frosting is spreadable. You may need to add more cream. If you add too much cream just add more powdered sugar to thicken.
This is a really delicious frosting. And so simple!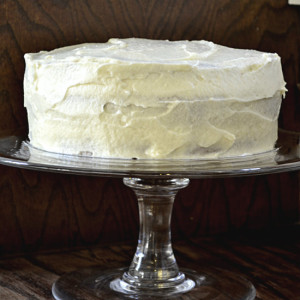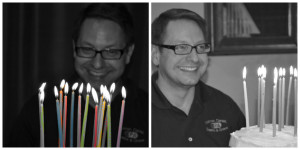 HAPPY BIRTHDAY WILL!