A Chewy Moist Delicious bite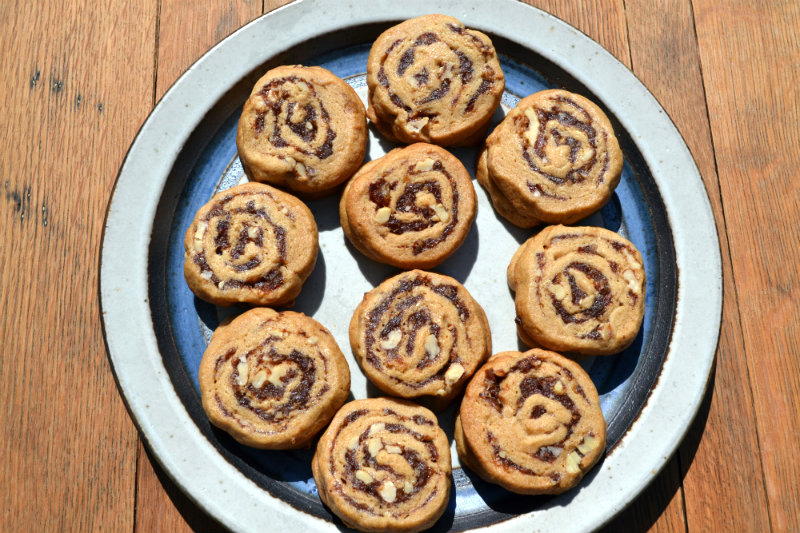 Try this family recipe for Date Nut Pinwheel Cookies. My Grandmother Rose baked these in the fall. Why wait. They are great today!
My grandma would always become distracted when baking these cookies. I'm not sure why. Probably the wash. She loved her wash! The cookies would get too brown in the baking. Or, the fruit oozing through the pinwheel on the bottom would burn. I am so careful not to do this. After preparing these it is truly a bitter tasting experience if they are over-baked.
Recipe
Makes 4 dozen pinwheels
Bake at 350 degrees F for 10-12 minutes
Use middle or higher oven rack
Preheat oven
1/4 cup shortening
1/4 cup butter
1 cup brown sugar (light or dark, I prefer dark)
1 egg
1 teaspoon of cream
1/2 teaspoon vanilla
1 3/4 cup flour
1/2 teaspoon baking soda
1/2 teaspoon cream of tartar
1/4 teaspoon salt
Filling:
3/4 pound pitted dates, chopped
1/3 cup sugar (omit sugar if using chopped dates with sugar added)
1/2 cup of water
1/4 cup finely chopped walnuts
Cook dates with water, and sugar, if used, in a sauce pan over medium heat until slightly thickened. Stir in nuts and set aside.
Sift together the dry ingredients, flour, soda, cream of tartar and salt. Set aside.
Cream butter and sugar together on medium speed until mixed well. Add the egg and mix until light. Add the cream and vanilla. After thoroughly mixed add the dry ingredients and mix until well incorporated. Divide dough in half and refrigerate for two hours.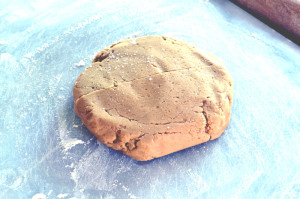 Work with half the dough at a time. Keep the second half refrigerated. Use a lightly floured surface. If you can work on parchment paper the rolling up process is easier. Here I have used a cold marble slab and a little flour. Roll into a 7″ by 11″ rectangle … This is only half the dough.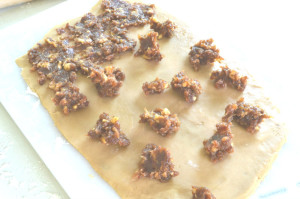 Dot the dough with small amounts of filling. Very lightly connect the dots together. The nuts will pierce through if pressed too firmly.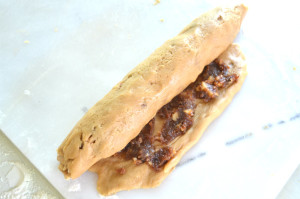 From the 7″ side of the rectangle begin rolling the filled dough. If you need help to unstick the dough from the surface use a pastry scraper. Now wrap the dough in waxed paper and refrigerate. During the process of refrigerating remove the wrapped dough from the refrigerator every 30-40 minutes and roll on hard surface with light pressure to maintain a circular roll of dough. No need to unwrap dough during this process. This avoids an oval cookie. When dough is thoroughly cold remove from refrigerator and slice. I recommend a very sharp knife with a sawing action to get through the dough. Rotate and roll the dough to keep the dough circular during the cutting. Place slices on parchment paper covered cookie sheet. Bake and Eat!