Decorated Cookie Cakes for Valentine's Day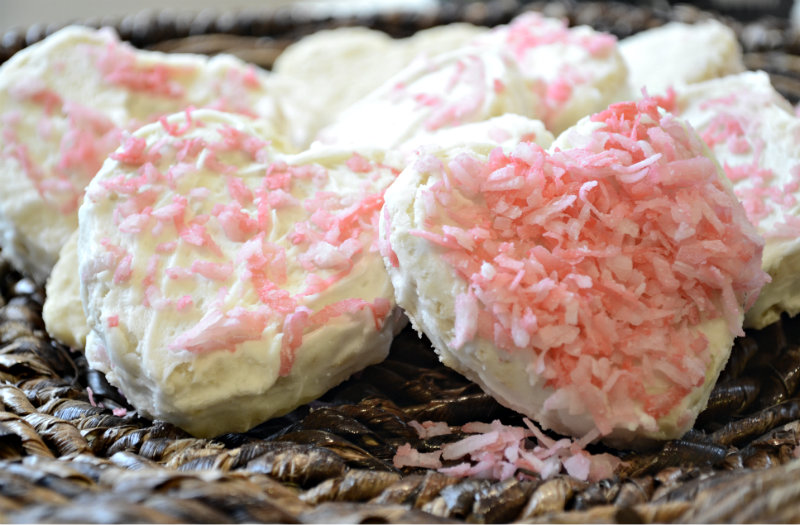 Decorated Cookie Cakes have a new face. This recipe was first posted December 12, 2013.
Now a Valentine!
I really love this recipe. Two cookies with a layer of frosting, then slathered all over and topped off with coconut, become a delicious surprise for Valentine's Day. This cookie cake was always a Valentine's Day cookie … Made many times for a classroom full of children. Those days are gone but my children still love these. We hope you will give this recipe a try.
For the cookie and frosting recipes refer to the post of December 12, 2013.
For the decorating:
Buttercream frosting
7 Ounces of coconut flakes
Food coloring or colored gelatin mix, such as Jello
After sandwiching two cookies together with frosting spread frosting around the edges and top. Top with flakes of coconut.
Two methods of coloring coconut:
Use a tablespoon of strawberry gelatin mix, not diluted with water, for every cup and a half of coconut to be colored. Place gelatin mix in the bottom of a jar. Add coconut. Place lid on jar and shake. This is best accomplished with a pint jar … doing small portions. If more intense color desired add more gelatin.
OR
Mix the following in a jar: one tablespoon of water and food coloring to desired color. Add coconut and shake. Place this coconut in one layer on parchment paper to dry.
Have a Great Valentine's Day!