Devil's Food Chocolate Pound Cake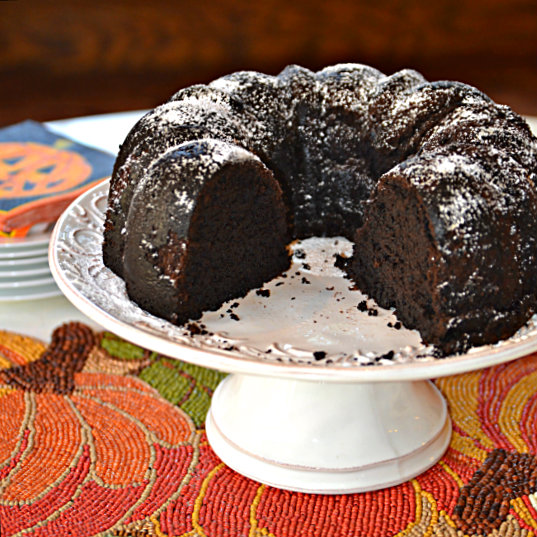 Chocolate is still my favorite dessert flavor. I can go days without it. But then thoughts of chocolate begin to circle and are relentless until I meet the craving. My recipe for this rich and moist chocolate pound cake does the trick. One must, the chocolate (for me) must be very very good if not the best. This recipe uses an entire cup of cocoa and it will drive the taste of this cake. You want the best available cocoa. If you haven't an idea about what's the best unsweetened cocoa ingredient to use check out Cook's Illustrated's ratings here.
Devil's Food Chocolate Pound Cake, a great treat for those Halloween visitors!
Recipe
Preheat oven to 325 degrees F
Prepare (grease and flour) a 10 inch tube baking pan
1 1/2 Cup butter-room temperature (If using unsalted increase salt to 1 teaspoon)
3 Cups of sugar
5 Eggs-room temperature (If using small eggs increase to 6 eggs)
1 Scant tablespoon of your very best vanilla
1 Cup of your very best unsweetened cocoa-whisk through to remove lumps and clumps
2 Cups all purpose flour
1/2 Teaspoon salt
1/2 Teaspoon baking powder
1 Cup buttermilk with 1/4 water or milk added
In a large mixing bowl beat the butter until creamy. Add the sugar and beat until the sugar begins to dissolve. This may take some minutes.
Add the eggs (one at a time isn't necessary if you have a very good strong mixer) and vanilla to the butter mixture and continue beating until mixture is light and fluffy.
Add the cocoa and mix until incorporated well.
Whisk together the flour, salt and baking powder in a separate bowl.
Now add the flour and liquid, alternating, to the butter/cocoa mixture.
Just mix until incorporated-avoid over mixing.
Pour into the prepared baking pan.
Bake for one hour or until wooden skewer come out clean. My cake required an additional 15 minutes to complete baking.
Remove from oven when done and cool for 15 minutes. Turn onto serving plate. Serve warm or cool.
Sprinkle with powdered sugar if you like or serve with dollops of whipped cream or ice cream. This cake can go it alone, however.
Enjoy!
Check out whipped cream how to here.