Drunken Pasta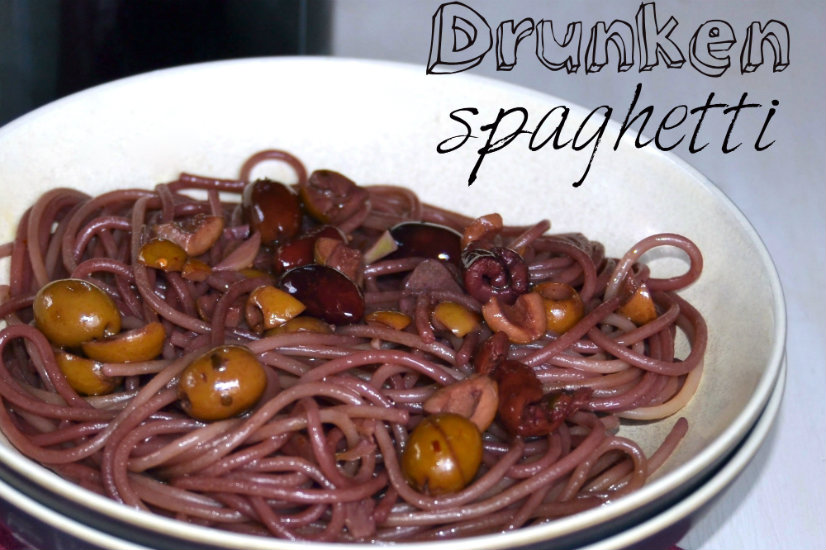 You must love pasta and wine to enjoy this recipe! And someone who is visiting me does! (Secretly, I do too.) Years ago I was flipping through a magazine and came across a similar recipe by Rachael Ray. My first thought … how could that taste good! I wasn't into wine and it just had so few ingredients. I gave it a try way back when. It was good … very good! This is totally a knock off with a touch of Rachael Ray. Enjoy!
Be sure and use your best ingredients! No cheap (value) dry red wine or extra virgin olive oil please.
Recipe
Serves 3-4
8 Ounces dry spaghetti
1/4 Cup extra virgin olive oil
3 Cloves garlic-minced
1 Cup chopped green olives or greek and green combination
1/2 Teaspoon red peper flakes or less for less heat
1 Cup dry red wine
Sea salt if needed.
Cook spaghetti in a good tablespoon salted boiling water for 5 minutes. It will not be completely cooked.
In the meantime, over medium heat sauté the garlic in the olive oil in a skillet large enough for all ingredients. Careful not to brown the garlic.
Add the chopped olives and red pepper flakes to the garlic/oil and heat through.
Drain the pasta and carefully add to the garlic mix. Coat.
Add the wine and continue cooking until wine evaporates and pasta is al dente.
Taste for the need of salt.
Serve.