Quick Easiest Yellow Cake
Guest Perfect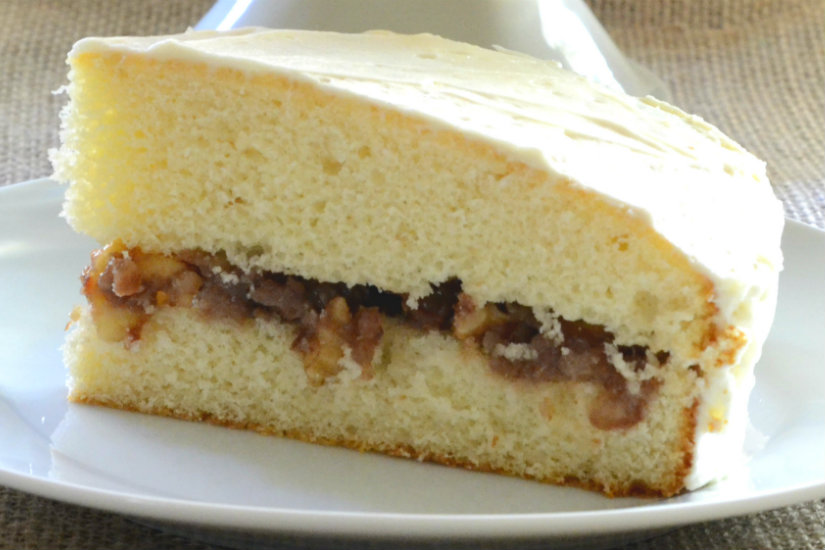 A quick uncomplicated dessert that's ready in no time. Nothing like something fresh from the oven! Versions of this yellow cake have been circulating for years and you still can't beat it for ease and taste results. Thank you Betty or Good Housekeeping or whoever you are.
This simple yellow cake, actually one layer, with your favorite filling is perfect for last minute guests. Fill it with jam or jelly, lemon curd, whipped cream and fruit or as I've done here, date-nut filling. Top with buttercream or cream cheese frosting. Easily serves 8 generously.
Recipe
Preheat oven to 350 degrees F.
Prepare one 8 or 9 inch round cake pan, use parchment or waxed paper in the bottom, butter and flour the paper and sides of the pan.
1 3/4 Cup cake flour (or substitute all purpose 1 1/2 cup)
2 Teaspoons baking powder
1/2 Teaspoon salt
1/2 Cup butter (or 1/4 cup of butter & 1/4 cup of shortening)-room temperature
1 Cup sugar
2 Eggs-room temperature
1 Teaspoon vanilla
2/3 Cup milk
Measure the first three ingredients into a small bowl and whisk. Set aside.
In a large bowl beat the butter and sugar until fluffy. Add one egg at a time and vanilla, and beat well after each.
Add the cake flour and milk to the butter/sugar mixture alternating about 1/3 flour and milk at a time. Mix until ingredients are well incorporated but not over mixed.
Pour into prepared cake pan. And Bake. Time 25-30 minutes for 9 inch pan or 30-35 minutes for 8 inch pan. These times are approximate. Touch top lightly of baking cake to see if it springs back-indicating it is done. Or use a toothpick down into the center-checking for a clean toothpick to indicate the cake is done.
Let cool in pan about 5 minutes then remove to rack to cool about 30 minutes before slicing.
I sliced with a serrated knife. Toothpicks can be placed around the outside to help guide in the slicing. Another trick is to slice with kitchen twine or unwaxed dental floss. Place toothpicks all around the layer. Place the twine over the top of the toothpicks all the way around. Hold the twine coming from the right side of the cake in your left hand and the twine coming from the left side of the cake in your right hand. Now saw back and forth pulling through the cake.
Date-nut Filling:
1 Cup chopped dates
1/3 Cup water
2 Tablespoons sugar-if you use sugar coated chopped dates this extra sugar is not needed
1/3 Chopped walnuts
In a small saucepan over medium heat add the dates, water and sugar (if using).
Heat until simmers then turn heat to low. Simmer until thickened slightly. Remove from heat.
Add the nuts. Cool.
Frosting:
! 1/2 Cup powdered sugar
4 Tablespoons of room temperature butter (or substitute with 2T cream cheese and 2T butter)
1-2 Tablespoons heavy or regular cream
1 Teaspoon vanilla
Pinch of salt
Beat butter or cream cheese combination until fluffy. Add all other ingredients starting with only 1 tablespoon of cream and beat on low to begin then high until light and fluffy. Add more cream if needed.
Fill and frost. Enjoy!