Easy Beef Stroganoff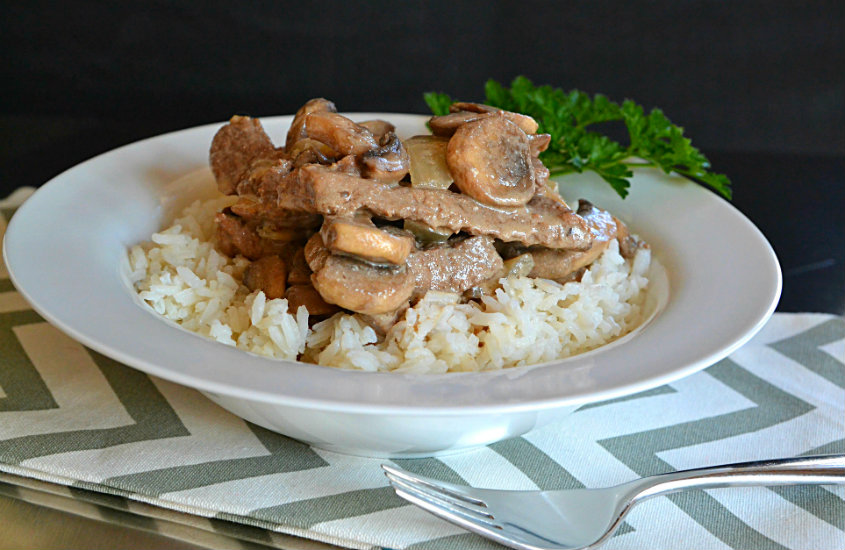 Thanks Virgie, a family friend for 40 years, for this easy recipe! Quick and easy! Delicious skillet meal in minutes. Serve over the traditional rice or egg noodles for a comfort food experience.
For a surprise twist to Stroganoff try this recipe too, here.
Thank you again Virginia Botkin Stanley. Besides the good food we enjoyed the dips in your pool too.
Recipe
Serves 4-5
1-1 1/4 Pound beef tenderloin-sliced 1/4 inch thick across
1/4 Cup butter
2 Cups sliced mushrooms
1/2 Cup chopped onion
10 Ounce can condensed beef broth-do not reconstitute
1 Cup Sour Cream
3 Tablespoons flour
Salt and ground pepper to taste
In a heavy skillet over medium/high temperature sear the meat on both sides quickly. Remove to plate as completed. Hint: Only do a few pieces at a time to keep from lowering the temperature of the skillet. Make sure your skillet is well seasoned or the meat will stick. If you fear this scenario grease the skillet with a bit of fat from the meat. Simply push the fat around the hot skillet with a fork until the skillet is well greased.
Next add 3 T of the butter to your medium heated skillet. Single layer your sliced mushrooms. Cook mushrooms until slightly golden brown on both sides. Push aside and add the last T butter and the onion. Cook until the onion is slightly tender but not browned.
Add back the beef and any juice. Turn heat to low/medium. Add the soup.
Mix the flour in the sour cream and stir into the mixture. Simmer until the mixture thickens. The sauce will be the consistency of a thin gravy. Taste for need of salt and pepper.
Serve over rice or egg noodles.