Easy Delicious Dessert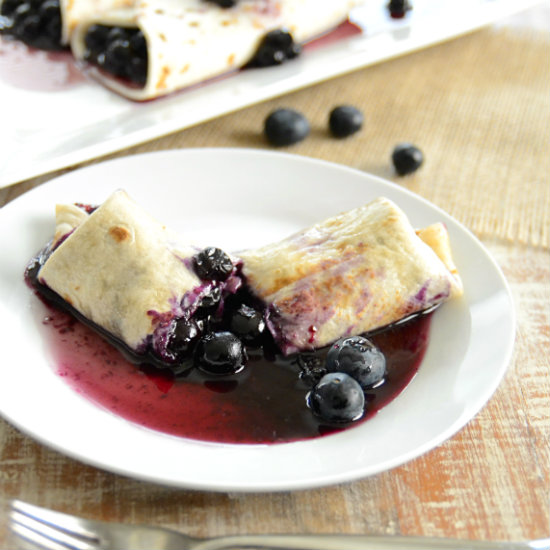 Looks a little like a burrito! Not into blueberries? Add your fav fruit pie filling instead! Really easy … really tasty. Fruit burritos for dessert or breakfast. Doesn't need a topping but doesn't hurt. A treat you can make your family's.
Blueberries were on special today … 2 packages for the price of one. I don't need much incentive to choose blueberries but for this recipe these work too: apples, peaches, blackberries, cherries, strawberries…. Well, you get the idea.
Recipe
Use a 9 inch square baking dish, prep surfaces with oil or vegetable shortening
Preheat oven to 350 degrees F
Bake for 20 minutes.
Serves 6
Syrup
3/4 Cup water
1/2 Cup granulated sugar
1/2 Cup brown sugar
Pinch of cinnamon
Pinch of nutmeg
In a medium sauce pan mix the syrup ingredients. Heat over medium heat until the mixture begins to boil. Turn down heat and simmer for 10-15 minutes or until thickens stirring occasionally. Remove from heat.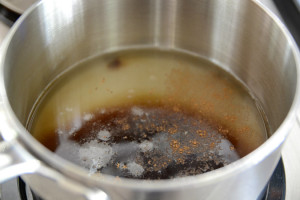 Burrito
6 Medium flour tortillas
4 cups blueberries-rinsed and drained
3 tablespoons all purpose flour
1/2-2/3 Cup sugar
Pinch of cinnamon
Pinch of nutmeg
Pinch of salt
One Teaspoon lemon juice
Combine in a small bowl flour, sugar, spices, salt and whisk.
Add the blueberries to a medium sauce pan over medium-low heat and mix in the flour mixture. Stir gently to avoid crushing the fruit. Cook until thickened stirring occasionally. Once the fruit becomes heated through the thickening is very quick. Remove from heat.
Refer to your cookbook for slight variations in spice or extracts for other fruit. Look for fruit pie filling recipes. Simply cook on the stove top over medium-low heat until thickened.
Fill the flour tortillas as you would a burrito. Place fruit in the center of the tortilla. Fold the ends inward first. Then fold over one side then the other. Place into prepared baking dish with seam side down. Ladle a generous amount of the syrup over the top of the burritos. You may not wish to use it all. (It can be used as a topping for other desserts or pancakes especially if you add a few berries and cook just a little longer.)
Bake for approximately 20 minutes until golden.
Easy Delicious Dessert!