Enchilada Soup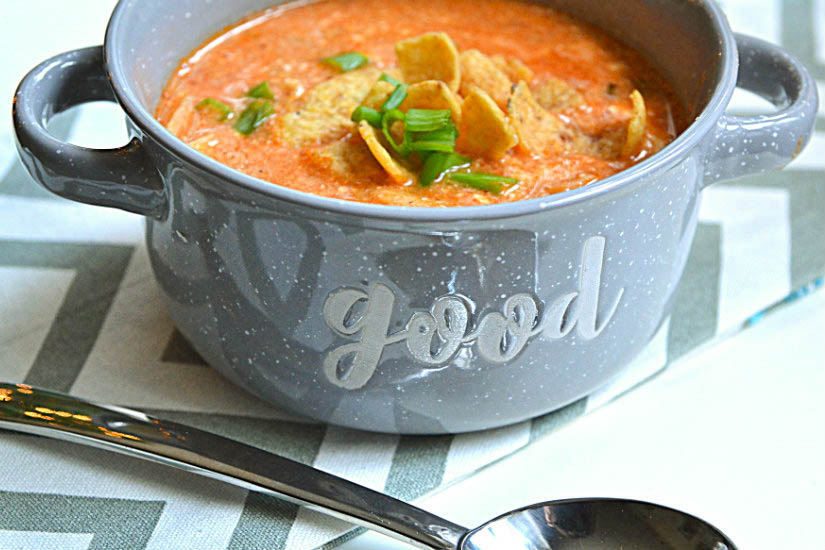 When you're craving enchiladas but don't have the time try this perfect substitution that only takes about 10 minutes. My fav enchilada is made with just cheeses. And this is how I love this soup too. If you like chicken enchiladas just add cooked chicken to this recipe. It works! This recipe can serve 6 easily with a side salad for a complete meal. I love this soup! Hope you do too!
Recipe
1 Tablespoon of olive oil
1 Bunch green onions-sliced-save a bit for garnish
2 Cloves of garlic-minced
1 Tablespoon of butter
6 Corn Tortillas-(not the very smallest and not the extra large)-cut into approximately one inch pieces
15 Ounce can enchilada sauce
1 Quart chicken broth
2 Cups of shredded Mexican Cheeses
3/4 Cup sour cream
Tortilla chips for garnish if desired
Cut the tortillas and set aside. This is done simply by stacking the tortillas, slicing through all across about every inch, then turn carefully and cut again going across the slices already made.
Heat the oil in a skillet large enough for all ingredients over medium heat. Add the onion and garlic and sauté until slightly tender. Remove and set aside.
In the same skillet with the leftover oil melt the butter. Add the tortilla pieces and coat.
Add the enchilada sauce and the chicken broth to the tortillas. Add back the onion and garlic. Heat through for about 5 minutes. (Add cooked chicken if you are using.)
Sprinkle in the cheese and melt into the soup.
Stir in the sour cream and heat through. Avoid boiling. Ready to serve.