Deluxe Homemade See's Fudge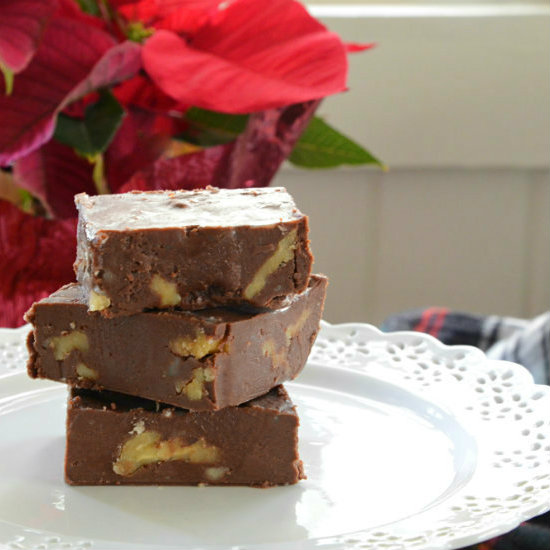 This is one of my Grandmother's Recipes made during the holidays … Originating other than in her kitchen. This and divinity were her candy specialities. I wasn't a chocoholic in those days. It's taken all these years to try out her recipe. Is it really similar to See's Fudge, See's being one of my favorites? Nope, but it's mighty good just the same!
Recipe
*18 ounces good quality semi sweet chocolate chips, Or approximately one+ pound deluxe semisweet chocolate broken into small pieces
1/2 Pound butter-room temperature
*8 Ounces marshmallow cream
2 Cups nuts
2 Teaspoons vanilla
4 1/2 Cups sugar
1 Regular size can evaporated milk (approximately 12-13 ounce size)
Bring the milk and sugar to a full boil and cook 8 minutes stirring as needed to avoid scorching.
Have all the other ingredients in a large bowl.
After cooking the sugar and milk pour over the other ingredients and mix thoroughly.
Pour mixture into buttered oblong dish and chill.
When serving remove from the refrigerator for a few minutes to soften. Then slice.
Recommend wrapping any leftovers tightly in waxed paper and then plastic wrap to avoid drying out.
*Just a word about chocolate chips. Before you decide you need See's Chocolate Chips for this recipe, kinda defeating the purpose of the recipe all together, I'd like to recommend reading the results of this internet piece, Dark Chocolate Chips Taste Test – America's Test Kitchen. You'll be surprised! Additionally, my grandmother had written this recipe, stating 3 packages of semi sweet chocolate chips (size package unknown). Because 12 ounce packages were not available in those early years I used the 6 ounce measurement, three 6 ounce packages. I have done a little research and found some homemade See's Fudge recipes use the 12 ounce size and others the 6 with all other ingredients being the same. My recommendation is to use the very best chocolate and use the lesser amount, 6 ounce packages. Further, if using chocolate bars know the percentage of cocoa when compared to chips will be higher, a good thing. And finally, if you decide to use an equivalent amount of marshmallows instead of marshmallow cream (I do not recommend) choose your marshmallows carefully. Your fudge could have an after taste of the powder used to keep marshmallows from adhering to each other. An easy recipe but your choice of chocolate will make a difference.