Tomato Soup Mystery Cake Now Pumpkin SpicE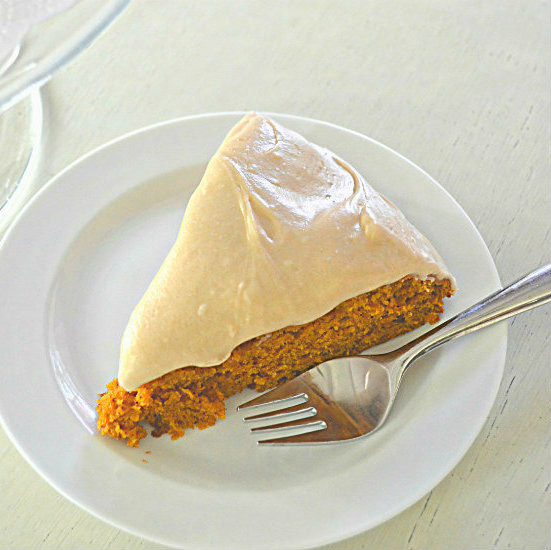 This was Marc's choice for a birthday cake … The Mystery Cake for the mystery man.
I have tested alternatives to the main ingredient, canned tomato soup. With this recipe I substituted pumpkin with terrific results. The idea of pumpkin puree just sounds better for several reasons.
The cake is called a mystery because of the hidden tomato soup ingredient that cannot be detected in the flavor of the cake. As for the pumpkin substitution, it is hard to determine if the spices used take the palate to a pumpkin place as in pumpkin pie.
The Tomato Soup Spice Cake Recipe was created during the depression era. King Arthur flour has the original recipe posted on their website. The changes made here are the substitution for the tomato soup and the addition of salt. And if you are not into cloves I advise decreasing this to a generous 1/2 teaspoon.
Recipe
Makes 1 nine inch layer
Bake at 350 degree F
1/4 Cup unsalted butter at room temperature
1 Cup sugar
1 Egg–beaten prior to adding
1 and 1/4 Cup pumpkin puree
1 and 1/2 Cup all purpose flour
1/2 Teaspoon baking powder
1 Teaspoon baking soda
1 Teaspoon cloves–scant
1 Teaspoon cinnamon
1/4 Teaspoon salt
1/2 Cup Raisins–optional (not used in this recipe)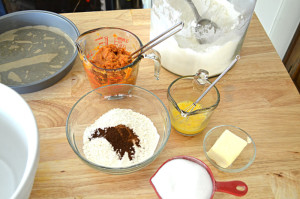 Cut parchment paper to fit the bottom of the cake pan. Butter the bottom of the pan before placing the parchment paper and again on top of the paper. Or, use a spray in the same manner … First spraying the pan, then adding parchment paper and then follow with spray to the top of the paper. Next measure all the ingredients. Place measured flour, baking powder, baking soda and spices together in bowl and set aside.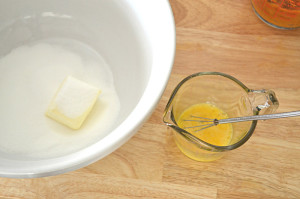 In a large bowl cream together the sugar and butter and then add egg and beat well. Next add the pumpkin puree and mix thoroughly.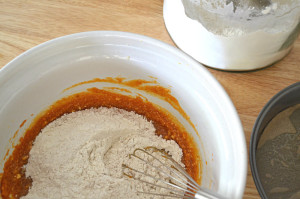 Whisk the dry ingredients together before adding to the pumpkin mixture. Then whisk the flour mixture into the pumpkin mixture until incorporated.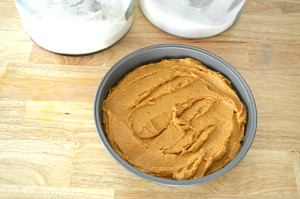 Spread cake batter into cake pan. It will be thick. Bake in preheated oven for 25-30 minutes until toothpick in center comes out clean.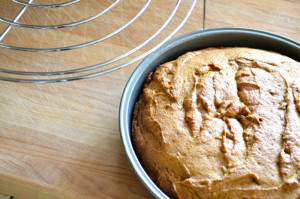 After cooled for 10 minutes in the pan remove cake to wire rack to finish cooling. This appears here to be a dense cake. The texture definitely is of a cake not a quick bread.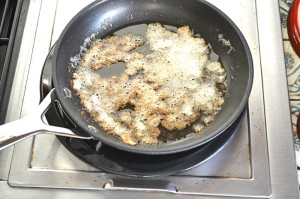 Recommend browned butter icing. Brown 3 tablespoons of butter, cool. Then add to 1 and 1/2 cups powdered sugar with enough cream to make the mixture spreadable. Start with 2 teaspoons cream and increase as needed. Add 1/2 teaspoon vanilla. As the icing stands it will thicken.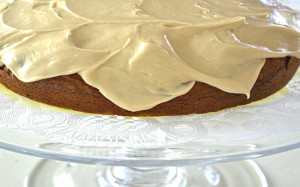 One deliciously moist cake.