Figs Are In Season
Fig Topping and Filling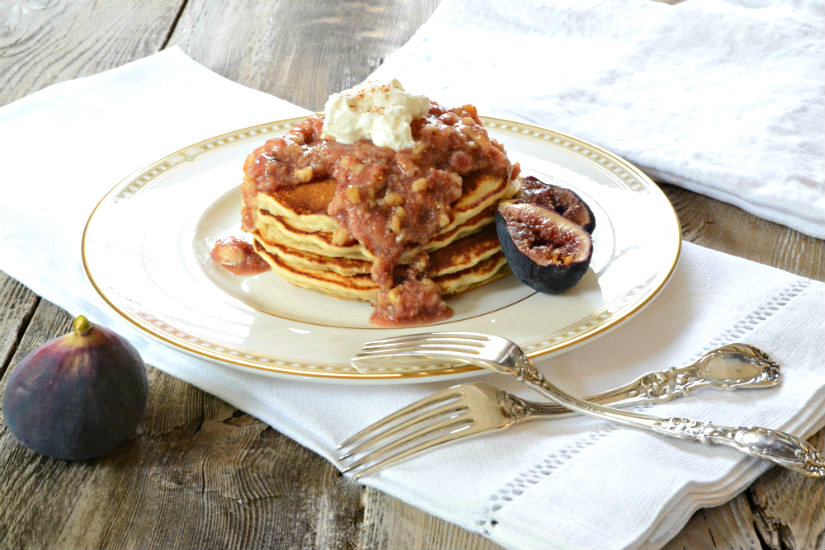 Beautiful figs … eat them quickly! Have you noticed you seldom see figs at your grocer's even when in season. They're a delicate fruit that spoils quickly. Several years ago I solved this problem by planting a fig tree in my yard … just plucking the fruit as needed once it ripens. It's a pretty skinny tree but never fails to provide. I love using the leaves too when making a cheese tray for company.
Figs are a great fruit to have with wine and cheese. Eating the skin and all. For this dish I chose to peel the fruit but this recipe could equally be enjoyed with the skins if you appreciate the texture. Use this topping for ice cream, brie, or traditional pancakes as I've done here. Or, perhaps better yet fill crepes and top with whipping cream. If you have an abundance of figs and are into them as much as I use this as a filling on a simple white cake. For the rest of the year dried figs are a better option. Dried figs can be substituted for other dried fruit in recipes. Try my Prune Cake Recipe by adding dried figs instead.
Recipe
Makes two cups.
1 Cup peeled and chopped figs
1/4 Cup finely chopped walnuts-less finely chopped if you prefer
1/4 Cup maple syrup
1/8 Teaspoon ground nutmeg (a shake more if you like)
Scant tablespoon of Cognac
Whipped cream or sour cream for garnish
To peel the figs start at the top. Cut across the top removing the stem. Loosen the peel at the top and gently pull downward removing strips of skin as you go.
Roughly chop the peeled figs and place into a large mixing bowl. If you are looking for a warm topping simple heat the figs gently in a skillet large enough to accommodate all ingredients and warm the maple syrup before adding.
Add all other ingredients except the cream. Stir. It's ready.