Filippo's Tiramisu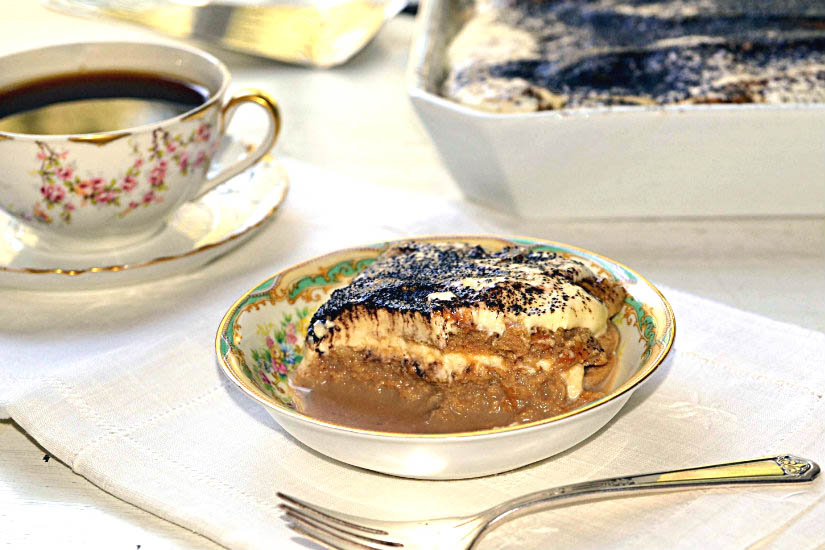 Today's my Daughter-In-Law Ann's birthday. Happy Birthday Ann! Her husband's (Ian) birthday is later this month and since this is a virtual birthday cake (They live states away.) I'm hoping they'll share. Filippo is a friend of theirs. They met him while in the University of Illinois graduate school; or was it the graduate students Catholic group? Filippo and his bride have since moved away but Ann & Ian, both great cooks, have filed this recipe among their most favorites. Thank you for sharing. And thank you Filippo!
This is the second of two tiramisu recipes I've posted. Both recipes are from Italy. Here's the first. They're amazing yet different. Today I seem to gravitate to this recipe a bit more. I'm not sure if it's the Bailey's Chocolate Cherry or the creamy coffee taste. I have to admit I was a little too generous with the coffee & milk and didn't refrigerate long enough before sampling … Not giving the ladyfingers enough time to absorb the liquids.
PS After a few hours in the refrig the dessert had the prefect texture. And it just got better the next day.
Recipe
Tiramisu for 12  by Filippo Gioachin
500 Grams ladyfingers (just a little over a pound, 17.5 ounces)
500 Grams mascarpone (17.5 ounces)-room temperature
4 Eggs-separated-room temperature
200 Grams of sugar (about 1 cup)
Strong coffee-1 cup
Milk-1/2 cup
Bailey's-2-3 ounces (I used Chocolate Cherry) Another brand coffee liqueur works. This can be omitted but may influence the outcome.
Unsweetened cocoa for dusting
Separate the eggs and start with the whites. Beat until stiff peaks and set aside.
Beat egg yolks until just beginning to fluff and change to a lemon color. Add sugar and stir in until dissolving.
Add the egg mixture to the mascarpone and mix until light and well incorporated.
Fold the egg whites into the egg/mascarpone mixture. Place into the refrigerator while completing the next step.
Mix together the coffee, milk and liqueur in a dish just large enough to dip ladyfingers. (You may find you don't use all this liquid or you may need a pinch more.) Dip one ladyfinger at a time into the liquid mixture. Be quick or the ladyfinger will be soggy and fall apart. Place one layer of dipped ladyfingers across the bottom of an oblong dish.
Remove the mixture from the refrigerator and spread 1/2 of the mixture across the layer of dipped ladyfingers.
Repeat the layers.
Refrigerate for several hours or overnight.
Sprinkle the top with unsweetened cocoa. Serve.