Filled Mini-Cupcakes For St. Patrick's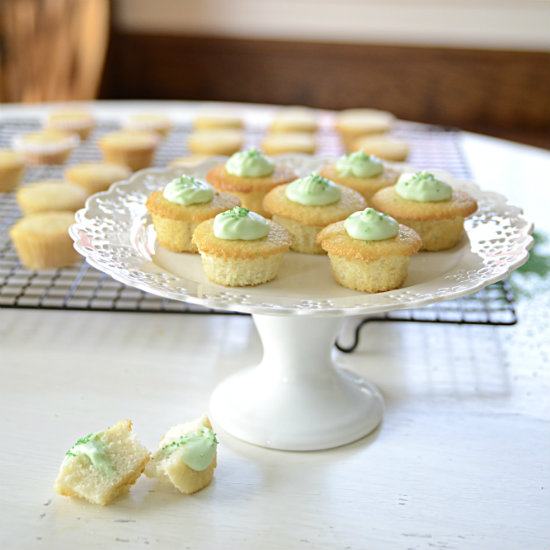 These filled mini-cupcakes are a great treat for both children and adults. My sister-in-law, Ruth, had suggested these mini-cupcakes for my blog … They are such an easy change up treat. Use my quick white cupcake recipe here, your own, or a box mix. You can change up the flavor of both the cupcakes and frosting-filling … And the color of the frosting-filling. This dessert will work for so many occasions … baby showers, bridal showers, holidays, birthdays….
Recipe
60 mini cupcakes
Bake at 350 degrees F for 10-15 minutes until slightly brown around the edges
1 2/3 Cup cake flour
1 1/4 Cup sugar
3/4 Teaspoon salt
3/4 Teaspoon soda
3/4 Teaspoon baking powder
3 Tablespoons butter-room temperature
3 Tablespoons shortening-room temperature
1 Teaspoon vanilla
3/4 Cup buttermilk (or 3/4 cup milk less 2 teaspoons, then add 2 teaspoons white vinegar set aside for 10 minutes)
3 egg whites
This is a one bowl mix. Use a large mixing bowl. Cream the butter and shortening until well mixed and fluffy. Shift all the dry ingredients right over the top of the creamed butter/shortening. While the mixer is on low medium add the buttermilk (or treated milk) slowly, followed by the egg whites and vanilla. Mix until the ingredients are dispersed but not over beaten. Fill the cupcake cups 2/3 full. Use paper liners for the cups if your bakeware is not a no stick. If no stick bakeware is used spray lightly with a no stick spray. Bake then cool.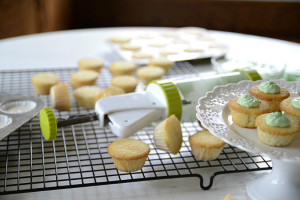 Cream Cheese Frosting and Filling
4 Ounces cream cheese
2 Tablespoons butter-room temperature
2 1/2 Cups powdered sugar
1 Teaspoon vanilla
3 Tablespoons milk and more as needed
Drop green food coloring
Beat cream cheese and butter together in a medium mixing bowl. Without mixing add everything else except the milk. Add two tablespoons of milk and mix. Add more milk as needed until the frosting can hold a soft peak. Stiff peak will likely break apart the cupcake.
I used my cookie press to insert frosting-filling into the cooled cupcake. No cookie press or pastry bag? Use a summertime condiment squeeze bottle. The pointed spout will need to be 3/4 inch at least in length. Squeeze the filling into the cupcake until you feel slight pressure. Pull out the tube and the filling with leak back a bit. After filling each go back and add a dollop to the top of each. Sprinkle with green sugar sprinkles or little green shamrocks.