Focaccia Chorizo Breakfast Sandwich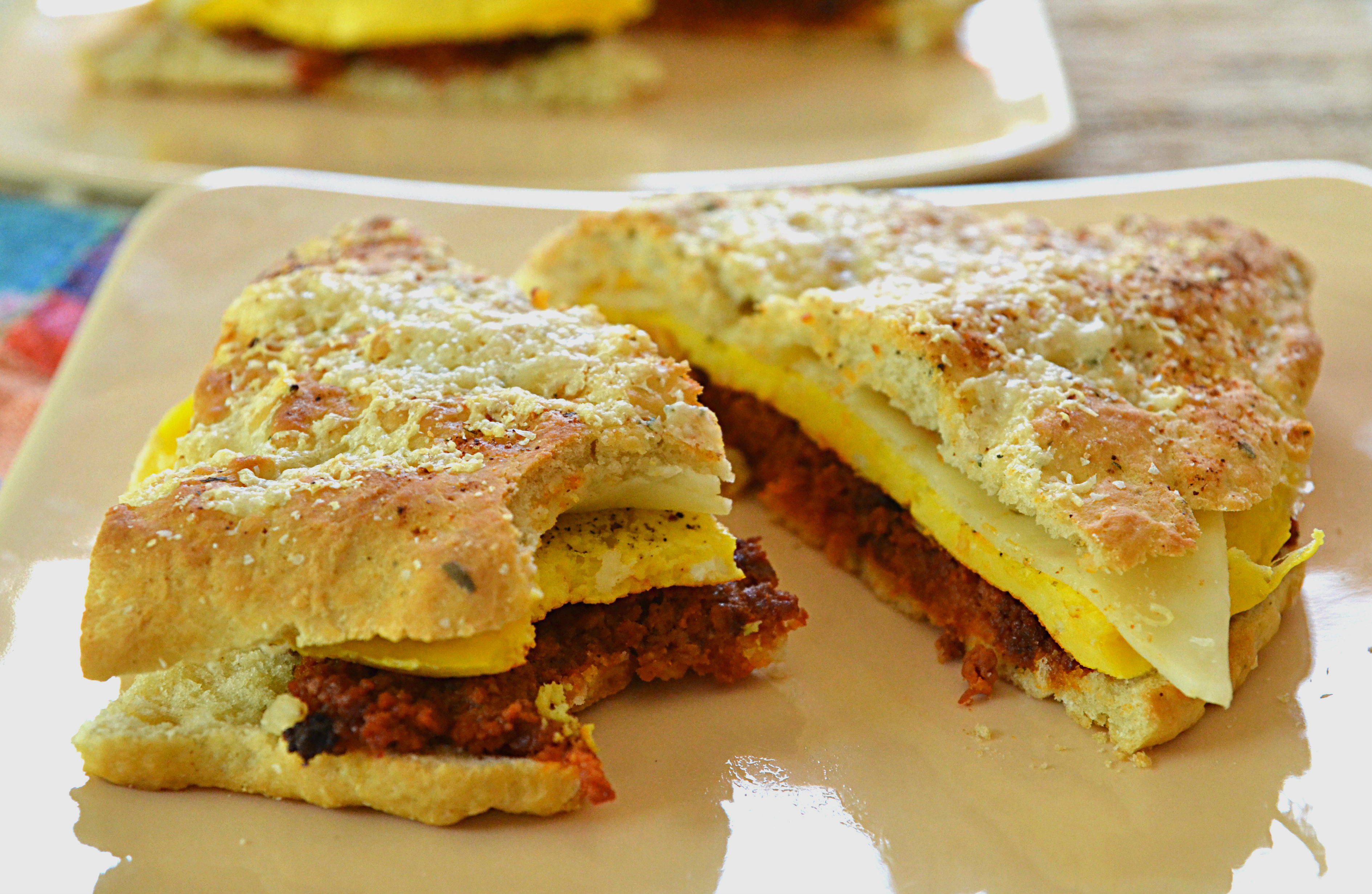 Yep, I do fast food … Starbucks to be exact! Not too often … Whatever that means! Their Chorizo Breakfast Sandwich has me. Potato bread bun with a slice of scrambled egg that has been cooked with caramelized onion, Monterey Jack cheese and a tender slice of chorizo. It's the spicy chorizo that makes it. This thin tender patty of chorizo is a mystery. I'm not a chorizo expert but I do know Mexican and Spanish varieties are quite different … the Spanish is more like an Italian salami in texture … so I've been told. Mexican varieties are in castings that are not typically eaten. The contents are removed, crumbled and cooked. The Starbucks patty doesn't seem to be either of these. We have a wonderful market here that provides many chorizo choices. Did I explore before hand? No, I already had a typical Mexican chorizo in the fridge and why go shopping. I'll make it work. Let's see what happens!
Why focaccia? Putting together a breakfast quickly is key for me. Buying prepared buns is not an option for this, and I've been wanting to try this focaccia recipe I found on allrecipes.com. I did simplify the recipe a bit. No need for a bread hook or mixer. Be cautious with salt here. Chorizo is pretty salty plus cheese and a salty bread? Too much.
Recipe
Preheat oven to 425 degrees F
Olive oil a 1″ by 9″ by 13″ (non stick preferably) pan, quarter sheet size. I found the dough did not completely fill the pan … several inches shy on both sides.
1 Cup water
2 Cups all purpose flour
3/4 Teaspoon salt
1/4 Teaspoon garlic salt
2 Teaspoons baking powder
1/2 Teaspoon dried oregano or 1 Tablespoon fresh
1/2 Teaspoon dried basil or I Tablespoon fresh
1 Tablespoon olive oil
Additional 1/4-1/2 Teaspoon garlic salt (I like the garlic salt & dried parsley combination)
1/4-1/2 Cup grated Parmesan
Pour water into a large bowl.
Measure and whisk together the next 6 ingredients.
Pour the flour mixture into the water and stir. This will mix up quickly and no need to keep stirring once mixed.
Pour dough out onto a well floured surface. Knead for about 3 minutes until smooth.
Oil your hands with the olive oil. And pour excess over the dough.
Place the dough on your pan and stretch. No holes please. It may not totally cover the pan. This is fine. Try to somewhat even the depth of the dough throughout.
Sprinkle with the additional garlic salt and cayenne pepper as in the allrecipe if desired.
Place into the oven and bake until slightly golden 20-25 minutes.
Remove when done. Sprinkle with cheese.
Turn the oven to HI broil. Place bread under broiler until slightly browned.
Chorizo and Egg Secrets
Mexican chorizo is typically crumbly and does not form a patty easily and as it cooks it falls away. If you are using this type of chorizo you may add a bit of your beaten eggs and dried bread crumbs and mix. This will help hold it together. You don't need too much. Start with just a bit. You'll be able to tell as you form the patty if it is holding.
For the scrambled egg: Mince a bit of onion … 1/4 cup will go a long way, scant 1T each serving. Caramelize in a little butter and set aside. Beat one egg for each serving. Do you want fluffy? Beat with a mixer and add a drop of water or milk. Next, add the caramelized onion to the egg mixture and cook in a nonstick single serving egg pan like this. Or use a silicone egg form.
Construct the sandwich:
Cut the focaccia into 6 equal pieces and slice each piece open carefully with a bread knife.
Place the patty onto the open slice, then egg and a slice of cheese (Monterey Jack or Pepper Jack). Top with additional slice of focaccia.
There you go!