Packed with Ingredients
Fresh Spinach Lasagna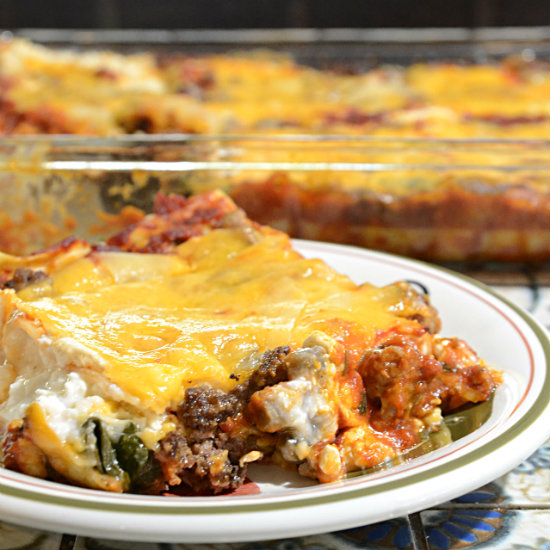 Yep, that's Sharp Cheddar! Cottage Cheese? Can I really call this lasagna? Well, it has lasagna noodles and marinara sauce … so, I guess so. For me, I prefer the traditional lasagna but I was making this for someone who requested some changes.
It always amazes me how much our tastebuds are influenced by the foods we experienced as children. Why cottage cheese? The texture is less grainy than ricotta, she says. And sharp cheddar? I couldn't do the Velveeta! Quickly sauté 8 ounces of spinach and layer it in … It may not be traditional but it is delicious. And a one dish meal.
Recipe
Preheat oven 350 degrees F. Butter an oblong 3 quart baking dish.
2 Tablespoons extra virgin olive oil
1 Tablespoon butter
Sprinkle of garlic salt
1 Cup diced sweet yellow onion
8 Ounces of sliced and washed mushrooms
1/2 Pound ground beef
1/2 Pound Italian spicy sausage
8 Ounces (or more to taste) fresh spinach
1 1/2 Cup cottage cheese
6 Pieces of no cook lasagna noodles
25 Ounces Marinara
6 Ounces grated Mozzarella cheese
6 Ounces grated or in slices (to layer) sharp Cheddar cheese
Heat 1T oil in a large skillet over medium heat.
Sauté onion until limp. Remove and set aside. Do not clean skillet.
Add the butter to the skillet and the sliced mushrooms and sauté. Add a sprinkle of garlic salt. Remove and set aside.
Using the same skillet crumble the beef and sausage into the heated skillet. Brown and render off the fat. Remove and set aside.
Add the last of the oil and heat skillet again. Add the spinach a little at a time. Sauté until the spinach shrinks slightly but doesn't lose color.
Heat marinara until almost bubbling.
Now layer everything starting with 1/4 the marinara on the bottom.
Next add 3 lasagna noodles, side by side. Layer the meat, mushrooms and onions followed by the cottage cheese and 1/2 of the remaining marinara. Top with the spinach and most of the Mozzarella.
Layer next with the 3 lasagna noodles. Add the remainder of the marinara and top with the cheddar and remaining Mozzarella.
Heat in the oven for 40 minutes.