Prune Cake
Our Family's Version Of Fruit Cake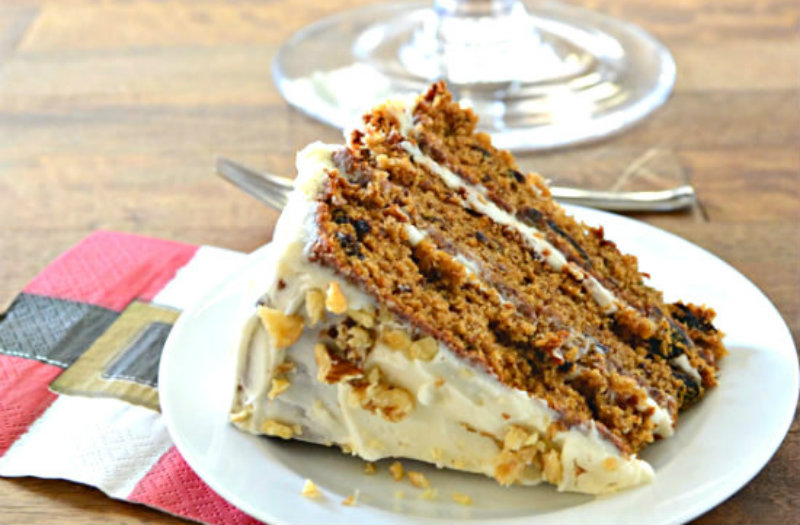 Leave well enough alone … knowing when is the trick! A hard lesson for me! I love this cake but the outcome is not always consistent. It might be from my need to make the recipe easier or more like a traditional layer cake. I'm always adding to or subtracting ingredients. The original is delicious and it's time to leave it alone.
Sorry George, I lied! George is the newest in-law and I was mentioning my next post. I could see it in his eyes, we're having WHAT for dessert? It doesn't taste like prunes! Oops. It does! But for me since I don't find prunes alone palatable but love this cake … I had forgotten.
Fruit Cake – Prune Cake, moist fruit filled with butter cream cheese frosting.
Prunes are not just for breakfast!
Recipe
Preheat oven to 350 degrees F
Use three 8 inch round cake pans with parchment paper cut to fit the bottom, butter under and on top of the parchment paper along with the edge of the cake pan. Then flour lightly and tap out extra.
1 1/2 Cups stewed dried prunes, drained and chopped roughly (or for a more prune taste 9 ounces of moist dried prunes, like Newman, chopped roughly without cooking) Not pits for easier prep.
1 Cup shortening-room temperature (use half butter and half shortening for a butter taste, the crumb will be a little heavier)
2 Cups sugar
4 eggs-room temperature
3 Cups all purpose flour
1 Teaspoon salt
4 Teaspoons baking powder
1/2 Teaspoon baking soda
1 Cup whole milk
2 Teaspoon vanilla
1/2 Cup chopped nuts (optional) & more for sprinkling (optional)
1 Teaspoon cinnamon (cinnamon, nutmeg and allspice are optional, all or none)
1 Teaspoon nutmeg
1/4 Teaspoon allspice
Cook prunes, drain and cool. Chop. (To stew: 7-9 ounces dried prunes in 1 1/2 cup water, simmer 10 minutes)
Whisk together the flour, salt, baking powder, baking soda, spices. Set aside.
Separate eggs, beat egg whites until soft peak, add 1/2 cup sugar of the 2 cups to egg whites and continue beating until almost stiff. Set aside.
Beat together shortening with remainder of sugar until thoroughly mixed. Add egg yolks and beat until fluffy.
Slowly add the flour and milk to the egg shortening mixture alternating with the milk. Add the vanilla. Beat until just mixed.
Fold in egg whites and prunes (nuts too if using)
The batter will be thick. Pour equally into the three prepared cake pans and spread evenly.
Bake for about 20-30 minutes. Check with toothpick at 20 minutes. Should come out clean. Do not over bake.
Remove when done. Cool for 10 minutes. Then remove from pans to racks and cool until room temperature.
Frost.
Frosting
1 Box powdered sugar (16 ounces)
1/2 Cup butter-room temperature
4 Ounces cream cheese-room temperature
1 Teaspoon vanilla
1/4 Cup cream (more or less until of spreadability)
Mix, electric beater best, and spread.
Here's a fruit cake everyone will enjoy!