Garlic Bread
In Search of the Perfect Recipe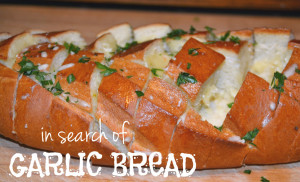 Have you seen the Garlic Bread on Crack Recipe! My photo version here. It's buttery, garlicky & cheesy. And I love it! The problem is I love it too much. If served with a meal it becomes the meal. Yep, the pieces missing I ate while taking the photo. It's true to its name. Oops! Check out the Recipe here if you dare.
Tom's Garlic Bread Recipe

My vote for the Perfect Garlic Bread! Rich garlic butter taste with a crunchy Parmesan topping. Not too heavy with the richest of meals. Perfect! Thanks Tom! Hope I get the technique close to yours. Ann stated the taste is spot on.
Recipe
Tom does this all in a skillet but I used the broiler (setting Hi) for the last step.
Large baguette-cut diagonally every 3/4-1 inch
Olive Oil
4 Large cloves-smashed
2 Tablespoons or more of butter (unsalted if you have it)
Shaker Parmesan-yes, the one in the green container
In a large skillet, large enough to accommodate almost all slices, pour a 1/4 inch layer of olive oil. Then add the butter and heat together over low/medium heat. Add the garlic too.
Avoid browning the garlic but allow the garlic time to produce a strong garlic flavor to the oil and butter. Remove the garlic with a slotted spoon.
Increase the heat to medium. Add the slices of bread over the heated oil/butter/garlic mixture. Toast to a golden on both sides.
Remove the toasted bread to a, preferably nonstick, cookie sheet. Add the cheese to the top of each slice. About a heaping 1/2 teaspoon to each. Smooth evenly over the bread.
Place under the broiler watching closely for a toasty look to the cheese.
It's done. Enjoy!