General Tso's Chicken to Pork Chops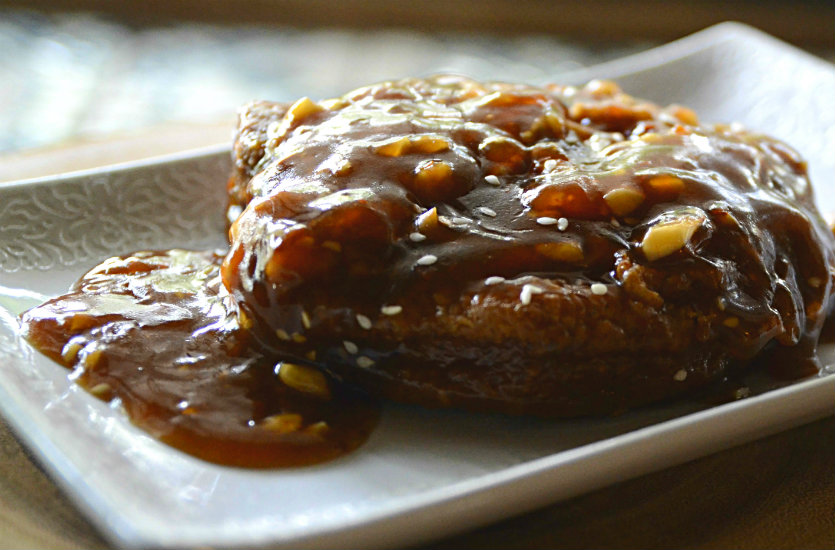 From Cold Cucumber Soup to General Tso's Pork Chops. It may seem my recipes are random but each has a special meaning for me. Almost all have been cooked or shared by family or friends. I might tweak the recipe a bit to bring it up to date or just provide an easier approach with the same delicious results. My mother has a delightful friend/cook who can create these wonderfully Asian inspired dishes, Adobo Chicken Wings, Tinolang Manok. Yes, even the Japanese Eggplant Appetizer but without the marinara, of course. That was my idea. But what does this dish have to do with all that! Well, I fell upon this history of General Tso's Chicken. The dish sounded so good! I knew I had just about all the ingredients to prepare this dish especially now with this new friend of mother's and mine … But no chicken. I had these pork chops and thought, this will work. Oh yes, how clever. Not really … It's been done already but not with my recipe anyway. Enjoy this meat dish over rice for just an amazing meal.
Recipe
2-4 One inch thick pork chops
Marinade
1 Egg
2 Tablespoons soy sauce
1 Teaspoon pepper
2 Tablespoons corn starch
Mix these marinade ingredients. In a glass dish with tall edges, like an oblong baking dish, pour this mixture to cover the bottom. Place the pork chops over the top of the mixture, and turn to coat both sides. Cover and let marinate 30 minutes, turning over half way through.
Cooking the Meat
1/4 to 1/3 Cup cornstarch
Enough oil to provide an inch over the bottom of your skillet. Use a high heat cooking oil, such as, coconut oil.
Heat the oil to a high temperature on medium high burner while you prepare the meat for cooking.
After the meat has marinated coat with the cornstarch on both sides. I do this by shaking the cornstarch onto a plate and then placing the meat on the coated surface. It keeps the waste of cornstarch to a minimum.
Place the coated meat into the hot oil and cook about 6 minutes on both sides until it is golden brown and crusty. Remove from heat and set aside.
Sauce
3/4 Cup vegetable broth or other broth
2 Tablespoons soy sauce
2 Tablespoons white wine vinegar
2 Tablespoons oyster sauce
2 Tablespoon sugar
1 Tablespoon minced garlic
1 Tablespoon sliced or diced fresh ginger
1 Tablespoon cornstarch
2 Green onions-sliced in big or small pieces, your choice
1/2 Teaspoon red pepper flakes
In a medium skillet over medium heat add all the ingredients and heat until blended and thick. This will happen very quickly. Add the meat and heat through.
Optional
Sprinkle with sesame seeds or green onions for garnish. Serve over rice.