German Chocolate Cake – Old Fashioned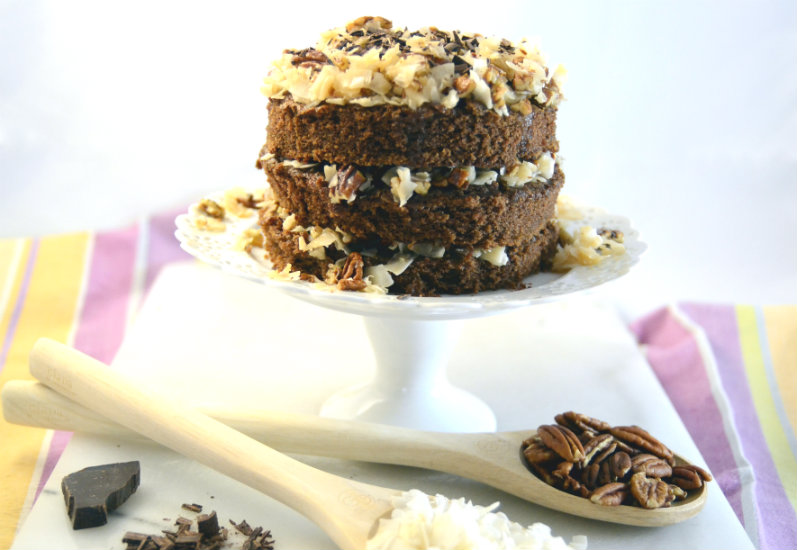 I've had many requests for this German Chocolate Cake … A cake recipe I've been putting together since I was a teen. Three layers with cooked frosting and expensive ingredients make this a special occasion cake. One of my very best friends (you know the kind … you don't talk for years but you are there for each other when needed as if no time had passed) loves this cake. She and I worked together on and off for over 20 years … some of the most fulfilling work years I've experienced. Our work was grueling but Lori's humor made often unbearable days bearable.
Here is your birthday cake … really late but I hope you enjoy it!
Before we get started … a little bit about Baker's German Sweet Chocolate, and the German Sweet Chocolate Cake. Mr. German, an employee for Baker's Chocolate Company, created the recipe for this sweet chocolate. It was given his name. Nope, it didn't originate in Germany. The cake recipe was created by other than the same company, again not in Germany … So I've heard but I have not researched this!
The Baker's German Sweet Chocolate package contained the recipe for German Sweet Chocolate Cake and the frosting-filling for years. And honestly, I have not tasted any German Chocolate Cake recipe better … my opinion. Today I noticed the recipe was not included for the cake but rather cupcakes. Nope, it's not the same. But the frosting-filling recipe is included and remains unchanged.
When making this cake I admit I use my recipe and other times I use the one included with the Baker's chocolate. I'm not sure where I acquired my recipe. I will make notations about the differences.
Recipe
Makes three 9 inch layers or 8 inch for thicker layers, 12 servings
Preheat oven to 350 degrees F
Bake about 30 minutes (longer for 8 inch layers) but check cake after 25 minutes … bake until center bounces back when lightly touched or toothpick comes clean when inserted into center
Four ounces of German Sweet Chocolate
1/2 Cup water
1 Cup butter-room temperature
2 Cups granulated sugar
4 Eggs
2 1/2 Cups self-rising flour (I used all purpose flour and made no allowances or substitutions. The layers reach the edge of the 9 inch cake pan.)
1 Teaspoon soda
1/2 Teaspoon salt
1 Teaspoon vanilla
1 Cup buttermilk
Place the chocolate in the water and microwave for 30 seconds. The chocolate will be partially melted. If it isn't, microwave again for several seconds. Stir and set aside.
Beat the butter until fluffy. Add the sugar and mix well.
Add the chocolate and water mixture when cooled. Mix well.
Add one egg at a time and mix after each well.
Measure the dry ingredients and whisk.
Measure the buttermilk. (I often use a dry buttermilk substitute to avoid waste. A quart of buttermilk can go bad and my recipes rarely call for more than a cup. And you can eat only so many buttermilk pancakes. Also, there is the sour milk trick you can use. Adding two teaspoons or three of vinegar to a cup, less the teaspoons, of milk and waiting 15 minutes. Stir and add.)
Add the vanilla.
Alternating the buttermilk and dry ingredients to the mixture beating in until just mixed.
Pour the batter between three cake pans that have waxed paper or parchment paper cut and placed to fit the bottom … And the sides have been greased or buttered and then floured.
The differences:
Separate the eggs. Beat the whites in a separate bowl with clean beaters until a soft peak. Set aside. Add the yolks as above.
Use all purpose flour and reduce amount to 2 cups. Reduce salt to 1/4 teaspoon.
Save the egg whites until the very end of mixing and fold in by hand.
Frost and fill with the traditional German chocolate Cake Frosting
There you go! Miss you Lori!