Gluten Free Raisin Biscuits
A Throwback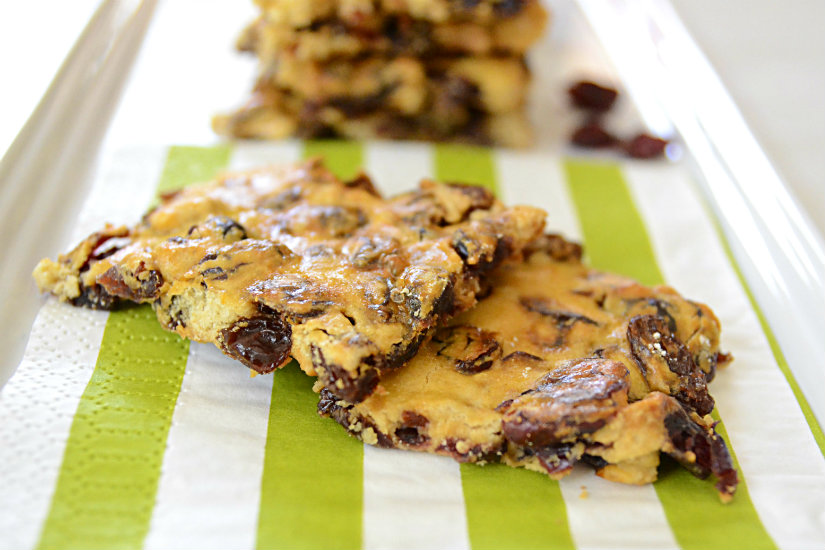 Over the last days I've been visiting with my daughter and her family in Southern California. My daughter is always mindful of healthy eating. Her pantry is low sugar, primarily organic and whole grain everything. She is into cookies and muffins if the nutritional value outweighs the calories. I'm for that! So, while driving home I was thinking dessert … after all, it had been three days without one. My thoughts went to a raisin biscuit, not gluten free, I ate as a kid. I've searched for this cookie in recent years … no longer available at my grocer's.
I started this recipe late in the day when the natural light was disappearing from my kitchen … Working quickly to get a post together by the end of the day. The step to refrigerate the dough was skipped … saving time, but the recipe suffered a bit. I worked half the dough … So, tomorrow look for instruction photos showing the rolling out process when I work the second half. The typical all purpose flour has been replaced by a gluten free all purpose. This was an easy transition for this cookie since the texture of the original raisin biscuit is unlike a 'cookie.' I've done a taste test and this definitely passes. I think my daughter would approve!
Try this with any number of dried fruit. I tweaked this a little and added a few dried cranberries too.
Recipe
Makes about 2 and 1/2 dozen biscuits
Preheat oven to 350 F degrees. Bake for about 15-20 minutes or until golden
One cup of gluten free all purpose flour
2 Tablespoons of powdered sugar
1 Teaspoon baking powder (check for gluten free ingredients)
1/4 Teaspoon salt, plus a pinch more if using no salt butter
6 Tablespoon of cold butter
1 Scant tablespoon of your best vanilla
2 Tablespoon orange juice
1 Tablespoon or less cold water
1 Egg for wash
1 Cup raisins or cranberries or combination
Mix the dry ingredients with a whisk.
Cut in the butter as you would for pie crust until crumbly.
Add the vanilla and orange juice and mix to see if all comes together. If not, add the water a little at a time until the dough comes together easily into a ball. Too much liquid makes the dough harder to work.
Flour your board and form the dough into a ball on the board. Cut in half. form each half into a rectangle. Wrap. Refrigerate until firm … about 30 minutes.
Work one half at a time. Leave other half in the refrigerator.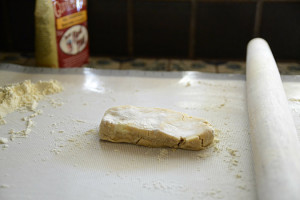 Roll the dough to about 1/8 inch thick into a rectangle form. This dough is a little sticky in comparison to a flour dough. I used a mat that only minimally helped with this. Go slowly and be prepared to patch if necessary. Roll to about 7 inches by 11 inches. Beat the egg by hand with a fork and wash (brush) the dough. Save the egg for final washing.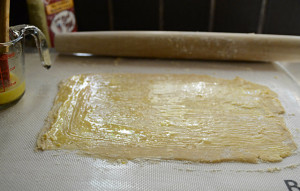 Add the raisins, sprinkling heavily. Using 1/2 cup per half of total dough.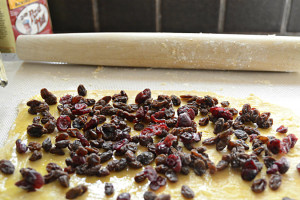 Next, fold over the dough using a scraper to help … folding the long side toward long side … actually folding over 1/3 or so of the dough toward the middle. Again, go slowly and no worries if a raisin or two or three poke through. Patching is okay.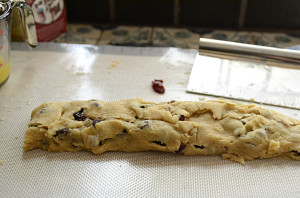 Sprinkle with flour and begin rolling out the dough to 6 inches by 10 inches approximately. Going slowly.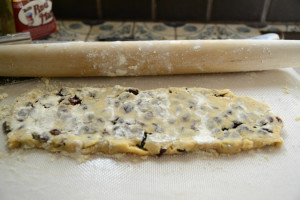 Continue until 6 inches by 10 inches. At this point the dough is easier to roll out.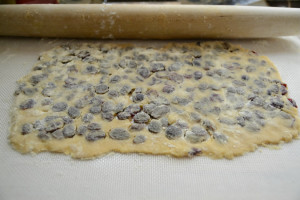 Wash again with the egg. The dough again is difficult to handle with the added moisture. Wash after cutting and placing onto the cookie sheet is an option. Definitely use a nonstick cookie sheet or parchment paper covered cookie sheet. Use a sharp knife or pizza cutter to make the cuts.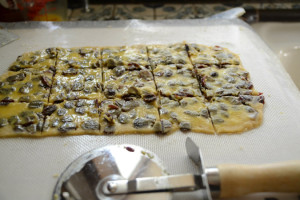 Bunched up a little on the cookie sheet here. Bake until golden.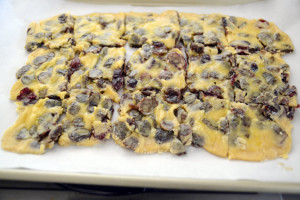 After the baking cut through again to be sure they are cut all the way through.