Green Chile Soup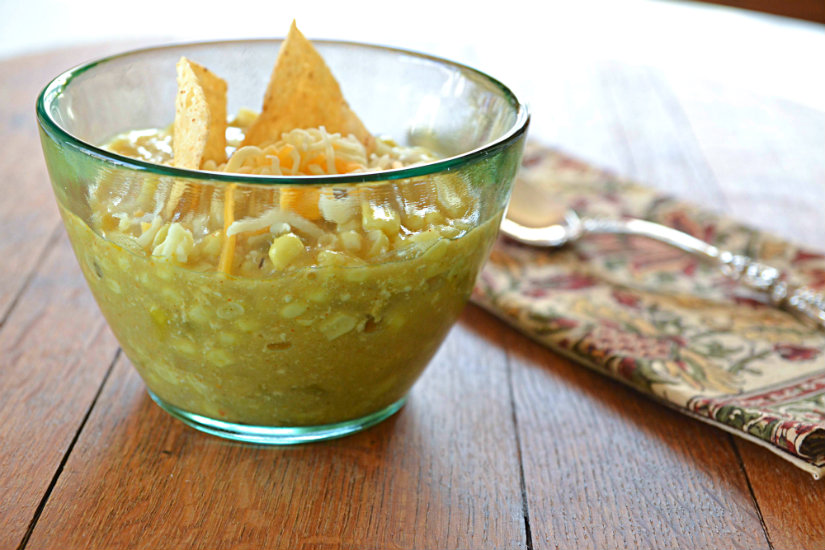 A favorite of mine. It's a basic recipe that can be dressed to your taste or served in the basic form. Another great tasting soup to enjoy this winter!
Recipe
2 Tablespoon olive oil
1 Medium yellow onion-chopped
2 Cloves of garlic-minced
8 Ounces frozen whole corn-defrosted
28 Ounce can green chile sauce such as Las Palmas
7 Ounce can chopped fire roasted green chiles-drained
3-4 Cups chicken broth or vegetable broth
1/2-3/4 Cup shredded Monterey Jack cheese or a mixture of Mexican shredded cheese
Add any of the following to the soup and make it your own:
1 Cup chopped cooked chicken or pork
1/2 Cup slightly crushed tortilla chips or 6 medium corn tortillas-cut into pieces
1/3 Cup sour cream-stir into soup-avoid boiling soup after addition, low simmer is suggested (or add a small dollop on top of served soup)
2 Chopped Roma tomatoes with seeds removed
1-2 Jalapeño peppers-seeded and minced
Chopped avocado for topping
Chopped cilantro or green onions as garnish
In a dutch oven over medium heat sauté the onion until translucent. Add the garlic and continue cooking for an additional minute.
Add the corn and continue with the sauté until the corn browns a bit.
Add the sauce, green chiles and broth. Simmer for about 5 minutes.
Add the cheese to the soup and stir to melt.
Add any add-ons and heat through then serve.