Green and Red Pepper Steak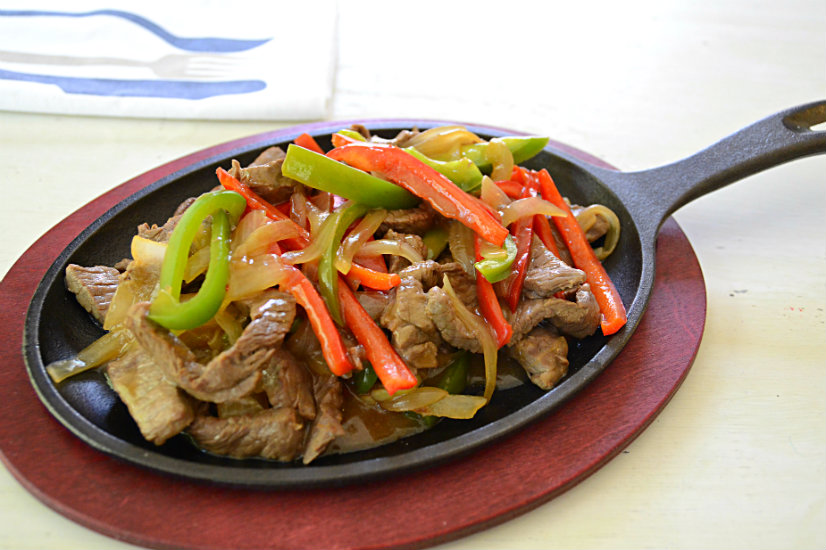 Here's a really simple dinner in no time. Use an economical cut of beef, requiring a little longer cooking, or a sirloin cut. I used sirloin … It was on sale this week. Just a word about sirloin … not all sirloin cuts are the same in taste and tenderness. There are approximately 11 different cuts. This particular piece I used was called Sirloin Filet. With this the cooking was brief and the whole dinner came together in about 20 minutes. Ask your butcher to recommend a cut if you aren't sure.
This recipe and a side of rice is perfect for four. Give it a try.
Recipe
One pound of round steak or sirloin similar to New York strip steak
1-2 Tablespoons heat tolerant cooking oil, like peanut oil
1/4 Cup soy sauce
1-2 Cloves of garlic-smashed then minced
1/2 Teaspoon ground ginger or 1 1/2 teaspoons fresh
1 Yellow onion-cut in half lengthwise and then sliced thin
1 Red Pepper cut in half lengthwise and then sliced thin
1 Green Pepper cut in half lengthwise and then sliced thin
1/2 Cup water with 2 teaspoons of cornstarch dissolved in this water
Thinly slice, especially important for cheap cuts, the meat across the grain and remove excess fat.
Mix soy sauce, meat and garlic together and cover while prepping vegetables. Can be done some time ahead for deeper flavor. However, refrigerate if this process is greater than an hour.
Heat oil in a large skillet, wok is good if you have one. Medium high to high heat brown the meat quickly. the meat only takes minutes to be cooked. However, if you use a cheap cut after browning turn heat down add 1/2 cup plain water to browned meat, cover with lid and simmer for 30 minutes. A cheaper cut will be tough without the extra cooking. If sirloin, brown the meat quickly, high heat, and immediately add the onion so it can also get a little color. Save the marinade for addition at the time the peppers are added. The sirloin will cook in minutes and be tender.
Add the green and red pepper slices and continue with the cooking until just slightly tender. About 7 minutes.
Add the ginger to the cornstarch water mixture, stir, and pour into the meat and vegetables as you stir the entire ingredients.
It's ready.