Greens with Eggs and Ham & Much More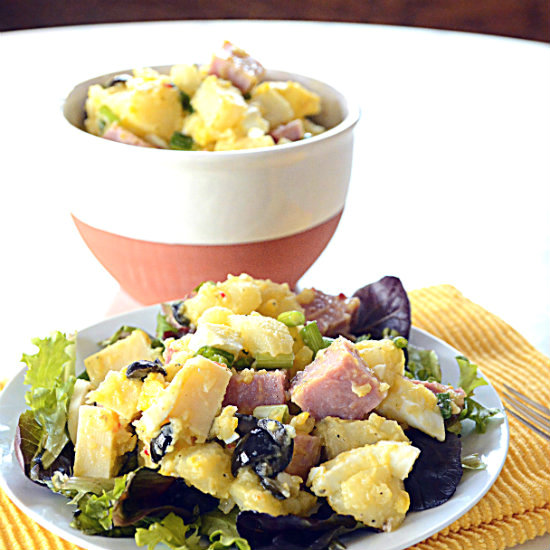 Putting this recipe together was motivated by my abundance of eggs, and leftover ham … The place you might find yourself after this coming Easter Celebration.
I hadn't given thought to Dr. Suess's birthday today, March 2 … And how with a few changes to my post title it could become the title to one of his most loved children's books, Green Eggs and Ham. It wasn't until my visit to Pearls + Girls that I even realized Dr. Suess was being celebrated today. Shame on me! If you haven't visited Pearls + Girls for a time, Katie has given her site a new look. I've always loved visiting her blog. You'll meet and enjoy this warm family from one of our cold midwestern states, Ohio.
What do I know about Ohio? You've heard me talk about my road warrior days. Akron was one of my stops … in the cold of winter, of course. I worked as a CRA for a company called Pharmaceutical Product Development (PPD) out of North Carolina. As I recall I was doing this Akron visit for a sick colleague. I always tried to make a fun thing out of these last minute flights and visits. What could I visit in Akron when doing a 24 hour turn around? Stay in a Quaker Oats Company silo at the Quaker Square Inn! Historic!
Recipe
Serves 4-6 adults
1 Head of romaine-washed and drained well (substitute your favorite salad greens)
1 Pound cooked ham-cut into 1/2 inch squares
1/4 Pound Swiss cheese-cut into 1/4 inch squares
1-1 1/2 Pound white potatoes-scrubbed, cut in half and boiled with a bay leaf until fork tender
4 Hard boiled eggs-peeled and roughly chopped
3/4 Cup sliced green onions
3/4 Cup roughly chopped olives
3/4 Cup Italian salad dressing
1/2 Teaspoon salt
1/4 Teaspoon pepper
Boil the unpeeled potatoes until fork tender … about 20-25 minutes. Drain and cool to a warm you can handle. Peel and cut into cubes not quite an inch square. Place into a large bowl and sprinkle with salt and pepper. Stir carefully. Add 1/4 cup of the salad dressing and stir carefully again. Set aside.
Boil the eggs. I recommend this boiling process. Your eggs will not be over boiled to a green rim around the yolk. Place the eggs into a small pot and add cold tap water to just cover. Place the pot onto the stove over a medium/high heat and bring to a boil. When the eggs begin to boil slightly cover the pot and remove from heat. Let set undisturbed for 15 minutes. Done.
To the potatoes mixture add the chopped eggs, onion, olives, swiss cheese and ham. Pour the remainder of the dressing over all. Fold to avoid crushing the potatoes.
Serve immediately or refrigerate and serve.
Serve over torn pieces of lettuce.
Greens with Eggs and Ham!