Greens – A Staple In Portuguese Cuisine
Kale and Turnip Greens are High On The List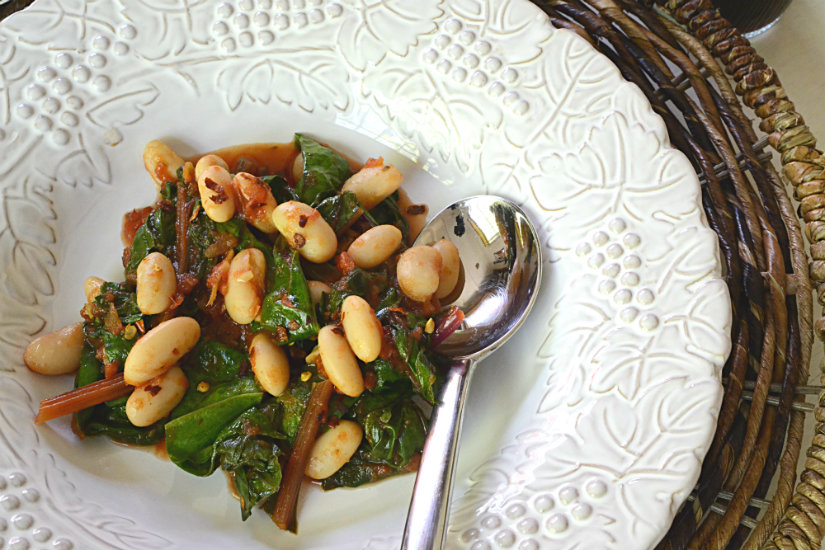 But this is Swiss Chard! Already picking this from my garden! As a child I would rather have greens over most vegetables and over all fruit. My children laugh when I say it must have been a nutritional need! These greens are amazingly packed with nutrition!
Years ago the variety of greens at the grocer's was minimal if not because of availability then just because they were old and unappealing. Today, I still have a time finding fresh turnip greens and sometimes turn to the freezer section. It doesn't matter if it's fall when they are in season or not.
Turnip greens were often used in my grandmother's cooking. Kale was hard to find. These two are the most often called for in Portuguese cooking. For the following two simple recipes you can use kale, swiss chard, turnip greens, mustard greens or even spinach. Of these the most bitter are swiss chard, turnip and mustard greens. Blanching the swiss chard may reduce bitterness but this is not recommended for the other greens. Mustard greens, kale (except for the stem) and of course spinach are more tender. Kale and spinach are delicious in fresh salads.
Recipe 1
2 adult servings
6-8 Ounces of swiss chard (your choice of greens)-washed, and chopped to your liking, spinach may not need chopping or trimming if the stem is tender
2 Tablespoons olive oil
1 Clove of garlic
1/4-1/2 Cup vegetable broth
1/4-1/2 Cup crushed tomatoes
1/2 Cup cooked cannellini-canned, rinsed & drained
1/4 Teaspoon red pepper flakes
Salt and pepper to taste
Heat the oil over medium heat in a large skillet and add minced garlic. (Large skillet is required for the volume but as the steam and heat hit the greens they begin to shrink.) Sauté for two minutes without burning the garlic. Add the greens and stir. Depending on the greens that you have chosen, how coarsely you have chopped and your preference the cooking is from just a minute or two, spinach, to 5-10 minutes, swiss chard.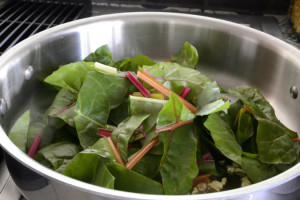 Add small amounts of the swiss chard and as it wilts down add more.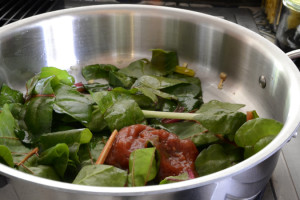 With the last addition of the chard add the remainder of ingredients except the beans and let simmer until tender. Finally, add the beans. Serve warm. I even like this at room temperature.
Enjoy this one as a main dish!
Recipe 2
6-8 Ounces of spinach (again your choice) Trim and discard tough stems
1 Clove garlic-minced
2-3 Tablespoons of olive oil
2-3 Tablespoons red wine vinegar
Salt and pepper to taste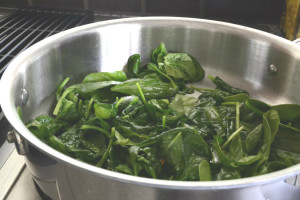 Heat oil over medium heat and add garlic to sauté. Add spinach and as it wilts add the vinegar and stir until done. Minutes!
Serve.