Hamburger Bean Soup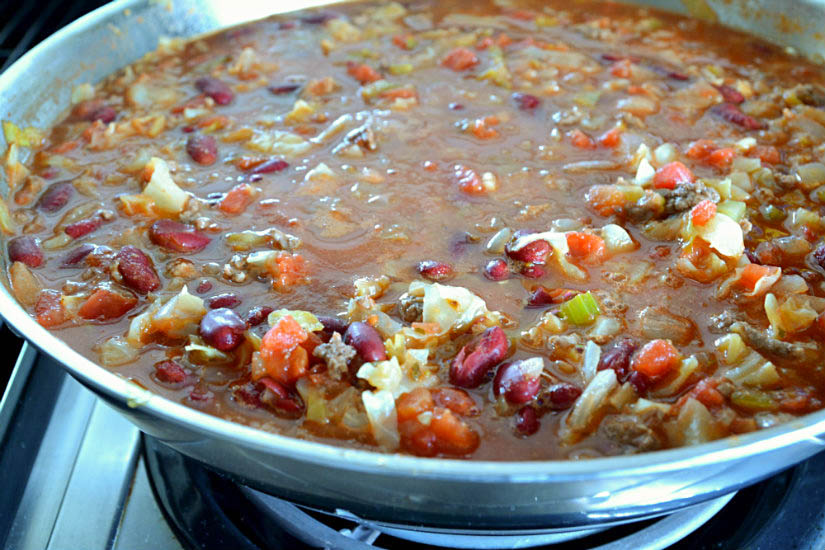 Freezing weather and a warm hearty soup go together. I usually have most if not all these ingredients available in my kitchen and you probably do too. This old time recipe is filling and perfect … in 30 minutes. From my mother's recipe box but influenced by her friend Kay. Wrap up in a cozy blanket and enjoy a cup of this!
Recipe
2 Tablespoons olive oil
1 Medium yellow onion-diced
2 Ribs celery-diced
3 Cloves minced garlic
1 Head of cabbage-chopped
1 Pound ground beef
2 1-pound cans kidney beans-rinsed
1 Teaspoon dried oregano
2 15 Ounce cans of chopped tomatoes
6 Tablespoons tomato paste
1/2-1 Teaspoon tabasco sauce
Salt and Pepper
In a large skillet over medium heat add the olive oil and sauté the onion, celery, and cabbage until tender. Add the garlic and sauté a minute or two longer.
Add all the other ingredients to the vegetable mix except the ground beef. Simmer.
In a separate skillet lightly brown the ground beef. Drain off fat. Add cooked beef to the dish.
Continue simmer for an additional 15 minutes.
Salt and pepper to taste.
That simple!