Harvest Bread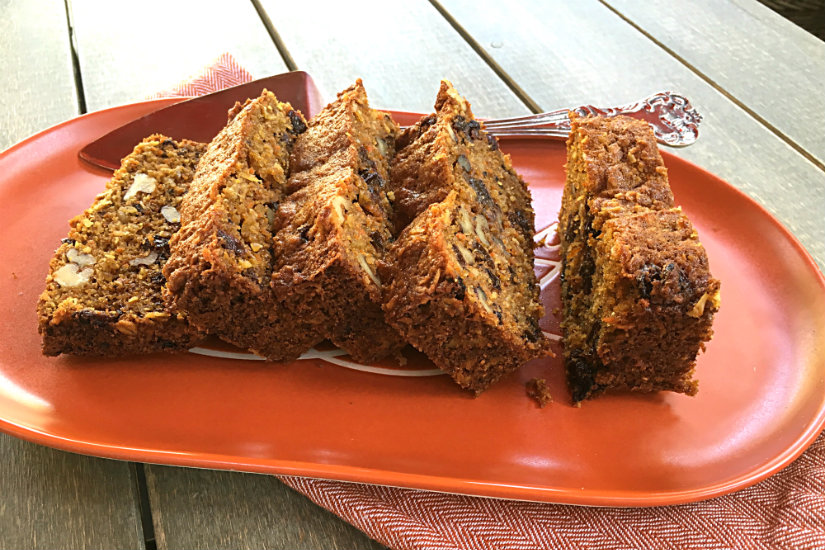 A not too sweet dense bread packed with all sorts of good things. Eat alone for breakfast or tea. Or have this as an accompaniment with stews and soups. Use Fiori Di Sicilia for a noticeable orange flavor or vanilla extract for a subtle flavor. An easy healthy recipe for family and friends.
Recipe
Preheat oven to 350 degrees F
Prepare (grease and flour) a loaf pan, 4 1/2″ by 9″ Variations in loaf pan size can be used–adjust baking times accordingly. This bread takes about 50-55 minutes to bake. While you can use the toothpick method to give you an indication of doneness the best method is by touching the top for a slight bounce back.
In a small bowl add and whisk together the following ingredients:
3/4 Cup whole wheat flour
1/3 Cup old fashioned oats
2 Tablespoons wheat germ
1 Teaspoon baking powder
1/2 Teaspoon baking soda
1/2 Teaspoon salt
1/2 Teaspoon cinnamon
1/4 Teaspoon nutmeg
Set aside the dry ingredients.
Now cream together:
1/2 Cup butter-room temperature
1/2 Cup packed dark brown sugar
Add:
2 Eggs, one at a time and beat until butter/sugar/eggs are light and fluffy.
1 Teaspoon vanilla or 1 teaspoon Fiori Di Sicilia or a combination
Slowly add the flour mixture to the wet ingredients. Mix to incorporate well but no over beating.
Fold in:
1 Cup finely grated carrots
3/4 Cup raisins
3/4 Cup chopped nuts
1/2 Cup finely shredded unsweetened coconut
Pour the batter into the prepared loaf pan and spread batter evenly. Bake as directed above.
When done remove from the oven and let cool 10 minutes before removing from the pan. To remove from the pan run a knife along all edges and turn onto a dry flat surface.