Pineapple Loaded Hawaiian Muffins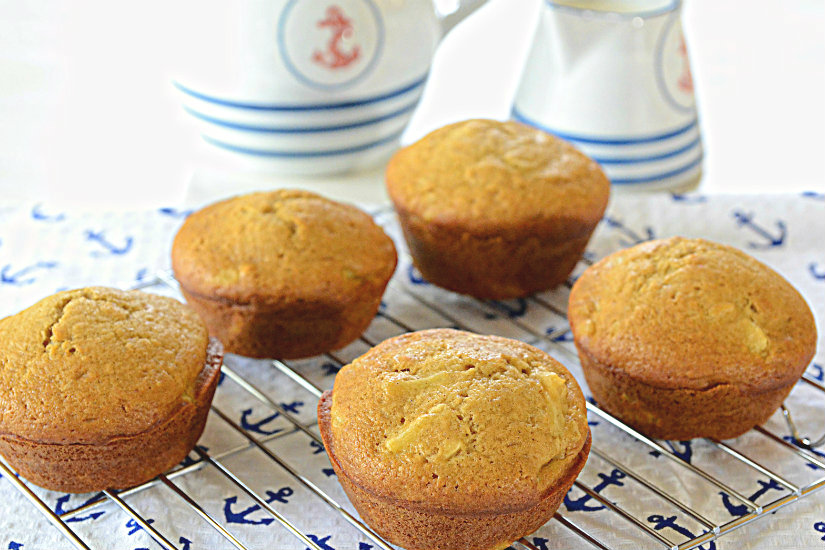 Inspired by my daughter's recent trip to Hawaii and the nautical gifts she so generously brought back for Kitchen Getaway. I know Missy, the picture isn't showing off my gifts in the best light. But the muffins look great!
Preheat oven to 375 degrees F
Use cooking spray to treat large muffin tin
Makes 6 large muffins
2 Cups all purpose flour
1 1/2 Teaspoons of baking powder
1/2 Teaspoon baking soda
Generous 1/4 teaspoon salt
Pinch of cinnamon
1/4 Cup room temperature butter
1/2 Cup brown sugar
1 Egg-room temperature
1 Teaspoon orange extract
3/4 Cup unsweetened pineapple juice
3/4 Cup roughly chopped canned pineapple-well drained
1/4 Cup chopped macadamia nuts (optional)
1/4 Cup unsweetened flaked coconut (optional)
Measure the first 5 ingredients in a bowl and whisk to mix. Set aside.
In a large bowl add the butter and sugar and beat until creamy.
Add the egg to the butter/sugar mixture and beat until fluffy.
Add the flour mixture with the pineapple juice to the butter/sugar/egg, alternating. Just until mixed
Add the extract.
Fold in the pineapple and macadamia nuts.
Pour into prepared muffin tin.
Sprinkle the tops with coconut. (optional)
Bake for 25 minutes.