Homemade Ravioli Made easy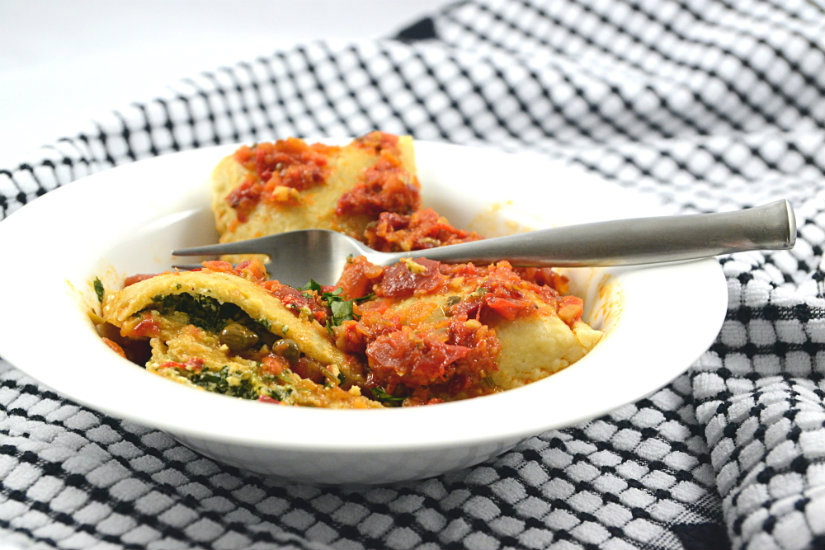 This is a simple recipe and you no doubt have the ingredients. It's been a long time since I've taken kinesiology but I can tell you this recipe requires strong hand and arm muscles. Unless, of course, you have a pasta maker. The dough is stiff and definitely will give you a work out. It might be just what you need after a difficult day at work!
Not a time consuming recipe. It would take more time to jump into your car, go to the grocer, buy pre-made ravioli, and return home to cook it. Give it a try! You'll be pleasantly surprised how easy it is. It's a recipe and upper body workout in one!
Recipe
Makes approximately 2 dozen 2 inch ravioli
Filling-Spinach and Ricotta
8 Ounces of frozen chopped spinach-defrost and drain well
15 Ounces ricotta
1/3 Cup Percorino Romano cheese
1 Tablespoon olive oil
1 Clove garlic-minced
1/3 Cup diced onion
Salt and Pepper to taste
Sprinkle of nutmeg
Use this filling or make another for the ravioli; meat with cheese, three cheeses or any number of combinations. For this spinach and ricotta … In a skillet over medium heat sauté onion for several minutes then add garlic and continue for another minute or two.. Add the spinach that has been well drained. Follow with the ricotta, Romano, salt, pepper and a sprinkle across all with nutmeg. Mix well and remove from heat to cool.
Ravioli Pasta
4 Cups of all purpose flour
5 eggs
1/2 teaspoon salt
2 Tablespoons olive oil
This all can be done by hand. However, if you wish to use a mixer with a bread hook it is a bit easier. In a large bowl measure the flour and salt and whisk. For either method add one egg at a time and mix into the flour thoroughly. Drizzle the olive oil as you mix the stiff dough until it is all incorporated. The dough may be crumbly but will hold together as you begin to work it in the bowl. As it sticks together more readily place onto lightly floured board and knead until smooth. Cover with wrap and let the dough rest 30 minutes.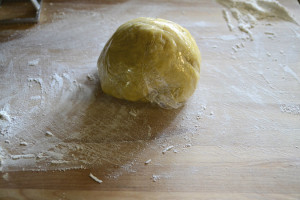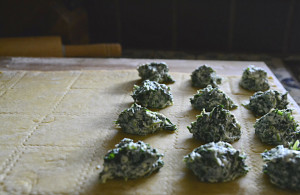 After the dough has rested for 30 minutes divide it in half. Roll out half to 6 inches by 12 inches, 1/8 inch thick. If you have a bigger working surface you can roll all the dough out at once, 12 inches by 24 inches, 1/8 inch thick. The kneading is a little difficult but this is more difficult … rolling it out uses your muscles. The dough is thick and stiff. If you plan to use a cutter keep the size in mind. After rolling out the dough dot across 1/2 the dough with 1 tablespoon filling at a time, spacing as you go. When you have completed one side use a basting brush with a little water and brush around each filling dollop. This is to help seal off the filling. Now fold over the half without the filling and place over the dollops carefully. Press into place around the filling. Cut with a pasta cutter or a sharp knife to shape the ravioli.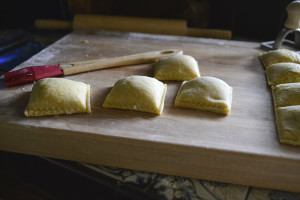 Ready to cook. Bring about 6 quarts of water to a boil.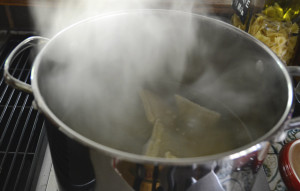 Add the ravioli to the boiling water. They will sink to the bottom. Cook about 10-15 minutes. When done remove with a slotted spoon. They will float to the top as they cook. As the ravioli are cooking heat up your fav sauce. I have several recipes for Italian red sauce on my blog. Choose one with few ingredients or make the Italian Gravy. Add a few meatballs with this. Or enjoy it with sauce, a sprinkle of Parmesan and parsley.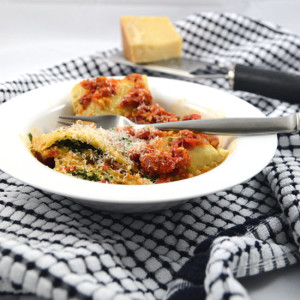 Try this easy sauce used with my Stromboli or this one used with Stuffed Pasta Shells. The Stuffed Pasta Shells post is another vegetarian dish and the Stromboli can be made over easily into a vegetarian Stromboli.