Seasonal Spring 2014
During these last months this page seemed to take on a life of its own. When I recently visited this winter dormant page I found it quite scrambled. So, if you visited and found the same I apologize.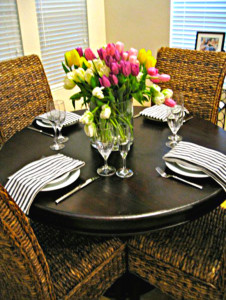 Isn't this lovely for Mother's Day! Thank you Missy and Will.
This was such a surprise I didn't have my camera,  smartphone photography. But how beautiful is this arrangement! Cut tulips can be expensive. And finding your tulips drooping is so disappointing. Try this:
–For the first 24 hours soak your stem wrapped supported flowers in cold water. Cut the ends to help water absorption.
–When ready to arrange the tulips find a vase that will support the stems.
–Handle with care. The stems break easily. Remove some of the leaves very carefully.
–Place in fresh cold water in your support size vase.
–If several break make a smaller arrangement for your guest room or bathroom.
Now it's Spring, and time to start fresh! Weather in the San Joaquin Valley has been mild. And I've been able to clean out flower beds and construct raised beds.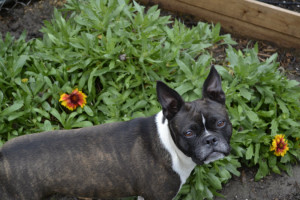 Dot, my Boston Terrier, is among my Golden Goblin Gaillardia. This plant is a hardy perennial. I love it because of its country look. But more importantly it's hardy.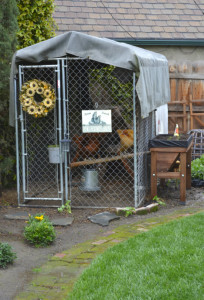 Spring Cleaning … Part of my spring cleaning is recycling. I recycle within my own home first … changing up my decor from room to room as I'm cleaning. This process continues outside as well. This chicken coop was once a dog run. And the dried sunflower wreath decorating the door to the hen haven is from last year and too faded now for my front door. I love to change up!