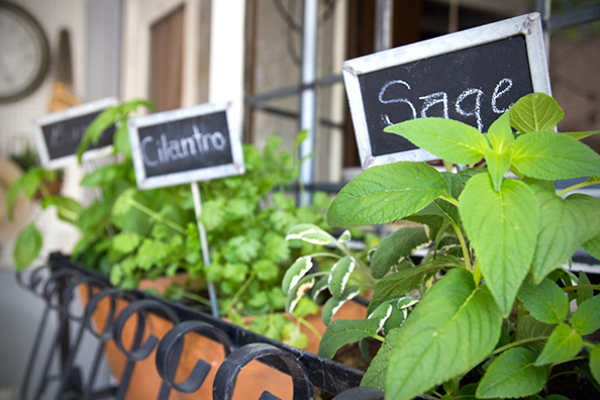 It's just a few days till Spring and I've been busy … building raised beds, cleaning and more cleaning. Winter has been mild for us and I've been able to get an early start. In fact, in the last 3 weeks I've planted herbs and vegetables. With a few exceptions, carrots, sunflowers & squash, I've used small plants from the nursery. The exceptions have already sprouted. Let's see what's taken place.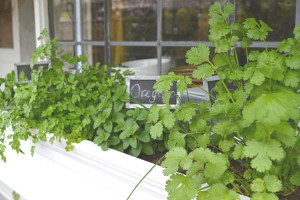 This new window planter has replaced the one with clay pots. The clay pots in past years became too crowded causing the plants to bolt. And watering was a daily chore. These herbs were planted several weeks ago and have already doubled in size.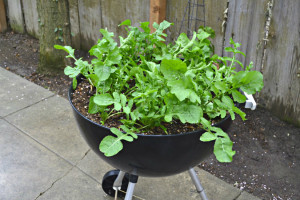 This old barbecue has been planted with arugula. My yard has a great deal of shade … And as you will see, concrete. This planter can be easily rolled around to capture the light it needs to keep plants healthy.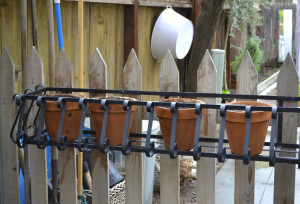 Here's the recycled window planter. This will soon be planted with seasonal flowers for a color spot. It's very shaded but great for impatiens. Note the mirror in the far corner to reflect light for an adjacent flower bed.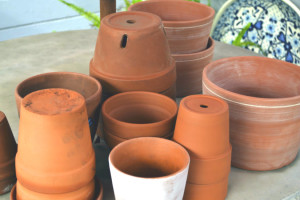 Here's a low maintenance color spot!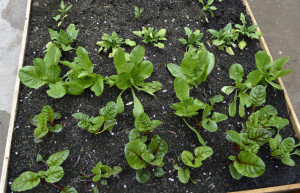 A raised vegetable bed on concrete? Yep, let's see how this works. This section is less than a foot deep, 4 feet by 4 feet. I've planted shallow rooted veggies, lettuce, chard, spinach and a variety of pepper plants. The lettuce has taken off. Lots of plants in a small plot at best means smaller developing vegetables. I've been successful in the past with container gardening but this is a bit different. I'm using a local nursery's potting soil mix … potting soil because of the minimal drainage. The plants are looking healthy.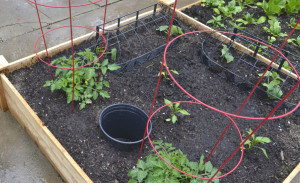 This is another view of the raised vegetable garden … showing the 2 foot deep section. Two Roma tomato plants have blossoms. Between them is an empty plastic container with drain holes to be used on very hot days for watering. Cucumbers and zucchini have also been planted in this same section. All have supports to keep the growing vegetables off the ground.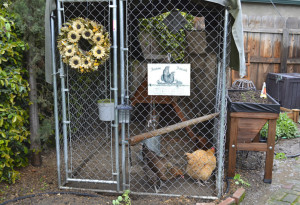 It's fun and productive to plant around the chicken coop. I have planted marigolds and nasturtiums for the hens to eat through the fencing. Their egg yolks will turn the brightest yellow. The raised planter to the right has carrot seedlings popping through already. Along this area pumpkins will be started from seed.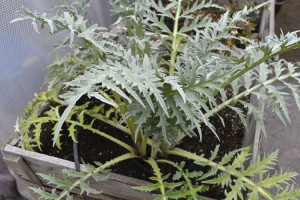 Throughout the sunny spots in the yard I have large containers for artichoke, blueberries, blackberries, asparagus, rosemary and lavender. I have more control over their growth and nutritional needs.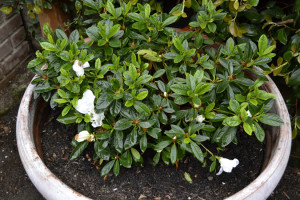 In areas where my dog spends a good deal of time I've placed large pots too tall for her reach inside. This is a good idea too because of this plant's toxicity.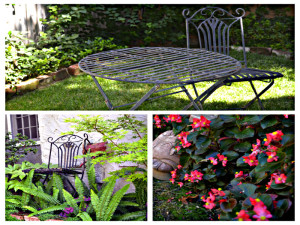 This is what Lily calls my secret garden. It is beautiful and secluded. Vegetables are out of the question here because of constant shade. It's a great place to daydream.
Still to come beautiful ideas for garden spots seen from every window in your home. It really can be uplifting on those hot hot days that keep you indoors.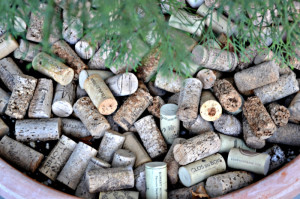 Great idea for those extra wine corks and providing an extra layer of protection for potted plants.