Italian Salad in a Jar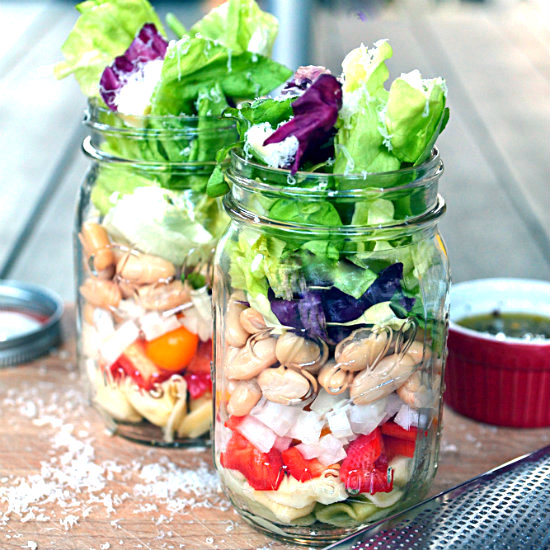 Who's more into salads than I am? Maybe my daughter. The perfect picnic food for us. The idea of the jar salad is not original but it is absolutely perfect. It's fun and practical for the summertime gathering. Adding a choice of salads is necessary for our clan. Here are two other jar salad recipes to try: Bean Salad & Layered Salad Colorful delicious salads! Enjoy!
Recipe
Use a combination of the following in amounts desired. Layer into your individual salad jar or a glass salad bowl to appreciate the colors and add to the appeal. Add the dressing or serve on the side. Amazing!
Cheese tortellini-cooked al dente and cooled to room temperature
Red, yellow or green bell pepper Or combination-diced
Chopped roma tomatoes
Sliced green onions or sweet onion-minced
Olives
Cannellini beans-rinsed and drained
Chopped pepperoni or salami or other Italian deli meats
Cubed Mozzarella cheese
Chopped artichoke hearts
Chopped or torn Radicchio leaves
Chopped or torn Romaine leaves
Grated Parmesan cheese
Italian Dressing: Measure the following ingredients in a medium size bowl: 3/4 cup extra virgin olive oil, 1/4 cup red wine vinegar, 1/2-1 teaspoon salt, 1/4 teaspoon pepper, 2-3 teaspoons sugar, 1 garlic clove-minced, 1 tablespoon grated parmesan, and a shake or two of Italian spices-optional. Whisk vigorously.
Italian Salad in a Jar!