Italian Sausage Recipe BBQ with Veggies
Serve on a Bed of Pasta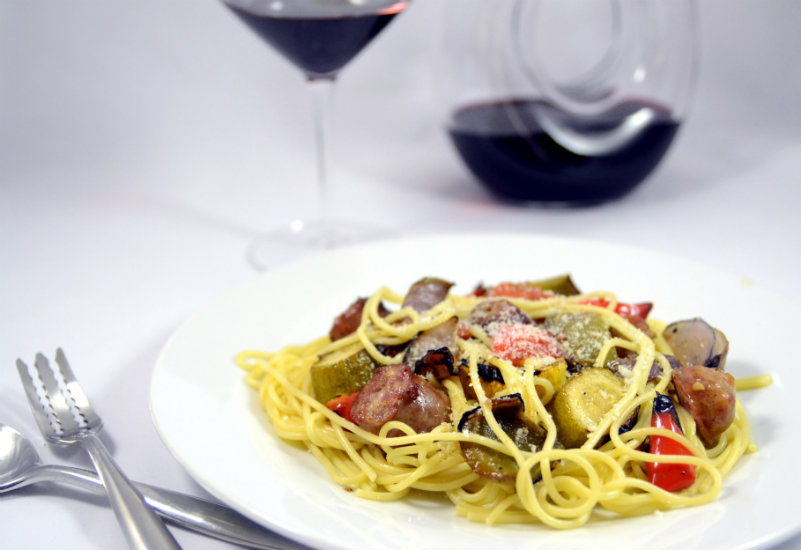 This is the real deal! No faux Italian sausage here. But I bet this would work perfectly with chicken or turkey Italian sausage as well. Choose mild or spicy. Vegetable choices are up to you too. Tomatoes do tend to cook more quickly than the sausage but can work nicely if the sausage is cut a bit smaller to decrease the cooking time. Ready in 30 minutes or less with minimal kitchen cleanup.
Recipe
4 Adult Servings
DRESSING
1 Cup extra virgin olive oil
1/2 Cup wine vinegar
3/4 Teaspoon salt
1/4 Teaspoon dry mustard
1/4 Teaspoon cayenne
1/4 Teaspoon tabasco sauce
1/4 Teaspoon garlic salt
1/2 Teaspoon sugar-optional
3 cloves garlic, 1 minced and the other two smashed and left whole
Mix all these ingredients and set out at room temperature if using right away. Otherwise refrigerate and use within 24 hours.
Optional: Grated Parmesan cheese for sprinkling
The dressing will be used on the veggies before they go to the grill. And served on the side to drizzle over the top of the cooked vegetables and sausage as well as the pasta.
ROASTED VEGETABLES
1 Zucchini-cut into medium pieces to bite size pieces
1 Yellow squash-cut into medium pieces to bite size pieces
4 Roma tomatoes-cut in half-these will cook faster
1 Red onion-cut into quarters or more sections if a large onion-flat ones are sweeter
1 Red bell pepper-cut into medium pieces to bite size pieces
1 Green bell pepper-cut into medium pieces to bite size pieces
Try to cut the vegetables uniformly with tomatoes being a little larger. Tomatoes just cook faster. You can try cherry tomatoes if you like … making sure the other vegetables are cut appropriately same in size.
Place your vegetables except for the tomatoes into a plastic bag or a bowl and drizzle with a generous amount of the dressing.
NEXT cut 12-16 ounces of Italian sausage in casing (pork, chicken or turkey, spicy or mild) into bite size pieces, cutting across.
Now place the vegetables and meat on the skewer alternating. Skewer through the skin of the vegetables and lengthwise through the sausage.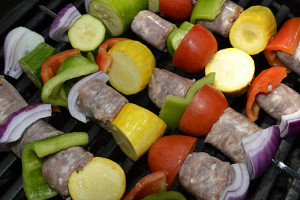 Preheat your grill to 450-500 degrees F. Place the skewered veggies and sausage on the grill and cover with lid. Check periodically for flareups caused by the sausage drippings, or for uneven cooking. Adjust heat as needed, and rearrange skewers as needed. Cooking time is approximately 30 minutes. Check for browning of the meat and tenderness of the vegetables. You may prefer your vegetables more al dente. This grilling certainly can be done over coals and without a lid but the cooking time will differ.
PASTA
While all is grilling prepare the pasta, 12 ounces, per package directions, rigatoni, spaghetti or your favorite.
When the vegetables and sausage have completed cooking remove from the skewers onto a serving of pasta. Drizzle over the top with dressing and sprinkle with Parmesan.
Have a sip of wine, and mangia!