Just in Time for the Fourth
-Barbecued Linguica "Hot Dogs" with Homemade Buns
-Portuguese White Beans (Baked Beans)
-Classic Best Foods Potato Salad – My Version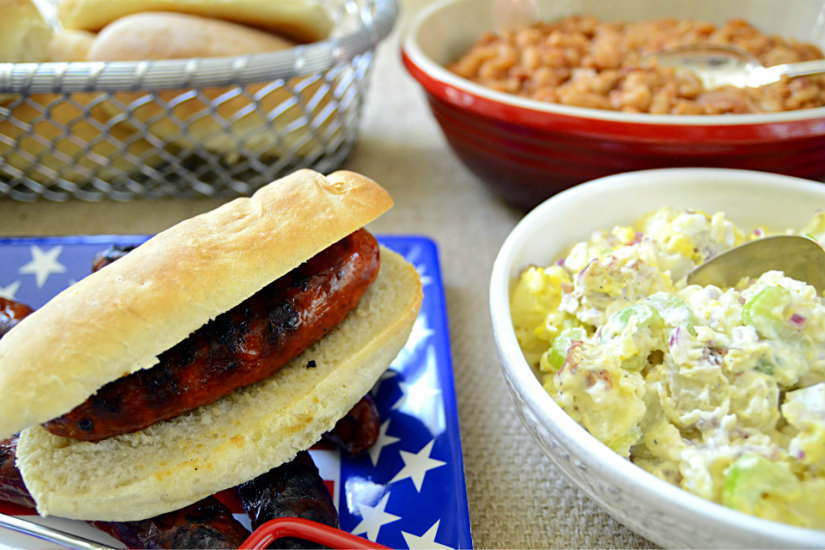 These Portuguese Rolls are the perfect bun for my linguica hot dogs. The ease and success of this recipe will have you and your family smiling.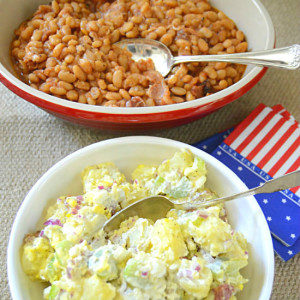 Another Perry Family Recipe, Portuguese White Baked Beans. About 10 minutes to prep and some hours in the oven and you will see why our family is still talking about this recipe 50 years later. Thank you Margaret. Enjoy, Danny and Leonard!
What a great old fashioned potato salad! We're ready for the Fourth. How about you?

Hot Dog Buns
The recipe for our linguica buns can already be found on my blog. My plan is to shape these rolls for hot dogs. They have the perfect taste and texture to be hot dog buns. Check here for the recipe Portuguese Rolls.
This hot summer … dough rises easily. This doubled so nicely I had to show you!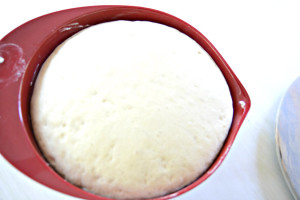 In shaping this dough for the second rise I suggest dividing into 8 for large buns and 10 for smaller buns. Here is a picture of 8 large.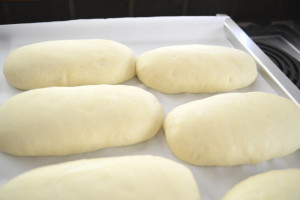 Portuguese White Beans (Baked Beans)
Makes About 15 Cups
3 Pounds of dry white northern beans, or navy beans-second choice, (I used navy beans this time, still prefer white northern beans) pick through and remove stones etc, rinse well with water
1/2 Box of brown sugar (about 1 1/4 cup)
3/4 Cup granulated sugar
3 Tablespoons salt (If you are unsure about salt start with 2T and increase as needed.)
2 Cans tomato sauce (15 ounces each)
1 Pound bacon-your favorite, I used black pepper coated
16-20 Cups of water-start with 16 and add more as the water cooks out
All ingredients mixed and bacon layered over the top. Bake at 400 degrees F without a lid. Cooking time for dry beans not presoaked is 4 hours approximately. Check for doneness after 4 hours.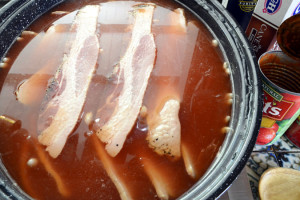 Pre-baking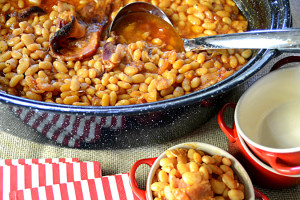 Post
Classic Best Foods Potato Salad
Makes approximately 5 cups
4 Cups cooked and cubed potatoes-the recipe calls for peeled potatoes (I opt out, and use red unpeeled. It's easier, healthier and I feel tastier. Your call!)
2 Hard boiled eggs-chopped (or slice across every 1/4 inch or less and use as garnish)
1 Cup sliced celery
1 Cup mayonnaise (I like Best Foods but you may prefer the sweeter version of mayonnaise.)
1/3-1/2 cup chopped onions (I use the lesser amount, recipe calls for 1/2, and I dice the onions. Also, I prefer red onion. You can use green, yellow or red. Your fav!)
2 Tablespoons vinegar, cider or white or whatever you have on hand. Maybe not balsamic!
1 Teaspoon sugar
1 1/2 Teaspoons salt
1/4 Teaspoon pepper
Wash and scrub the potatoes even if you plan to peel later. Place the potatoes in enough water to skim over the top. Bring to a boil and cook until just fork tender about 20 minutes but depends on size of potatoes. If really large potatoes cut in half. You can boil with bay leaves if you like too. Drain when fork tender without waiting to cool down (safety first) to avoid over cooking. Let cool enough to handle. Peel or don't peel. Cube.
Place in a large mixing bowl and sprinkle potatoes with the vinegar.
Salt and Pepper the potatoes (Salt and Pepper to taste. We like a lot of pepper.)
Add sugar to mayonnaise and stir to dissolve.
Add all other ingredients and mix thoroughly but gently.
Serve slightly warm or refrigerate until cold.
Hope this gets you pumped!
And may I suggest too my homemade ketchup!
Happy July Fourth!