Kitchen getaway Everyday Favorites
Everyday Go To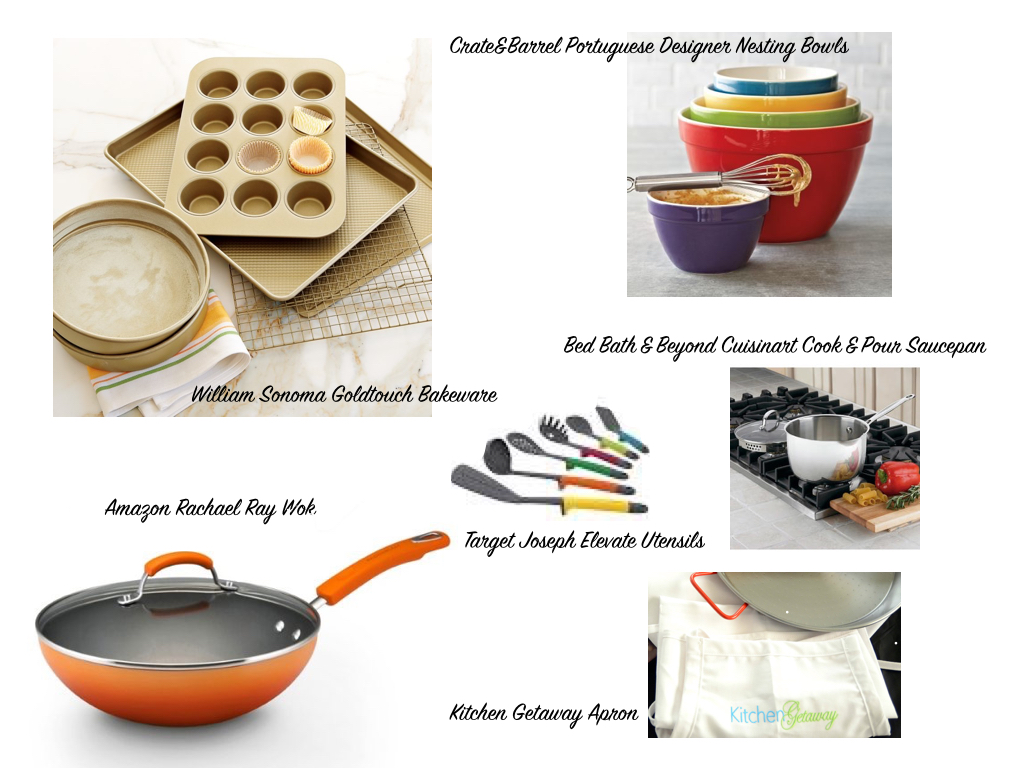 My kitchen is filled with utensils, special pots and saucepans and other kitchen gadgets  … Even some really pricey equipment gifted to me by my children. I treasure them all! But for everyday cooking I seem to choose the same items over and over … I wanted to share them with you. I've mentioned many times Goldtouch Bakeware by William Sonoma. I love the clean up of this nonstick ware as well as the even baking, and the attractive look. (I love the look of my banged up copperware but can't handle burnt on food on my bakeware. So, you won't be seeing those artsy photos that I, too, love of blackened cookie sheets on my blog.) Check out these and numerous bakeware pieces available in Goldtouch here.
You might recognize the orange of Rachael Ray cookware … My piece is actually a bright blue. It's just so versatile. I have another wok I use for high temperature stir fry but I love the Rachael Ray wok for one dish meals. It's just a great size, has a nonstick surface and the heat is distributed well. Take a look on Amazon for the details here. Check out another Rachael Ray wok you may find more to your preference here.
Every kitchen needs mixing bowls and I admit I don't have these Crate & Barrel beauties. I love Portuguese dishware … So, why wouldn't I love these! Take a trip to Crate & Barrel here and check it out.
Wooden spoons are a favorite of mine. But that one dish with a lot of cheese or that requires a close swipe to the bottom of the skillet … a wooden spoon doesn't get it. In this Target display of utensils I have the spoon only. I have purchased two in the past, one from a local speciality store and another at Sur La Tab. Target just has this complete set … and why not! What is really cool about this utensil is the resting back lifting the food covered portion right off your countertop. Give this Target utensil set a look. Or here for Sur La Table.
What is so special about this 3 quart stainless steel saucepan? It has a dripless pour spout with a lid that allows pouring without removing. Perfect for draining so many things; hard boiled eggs, pasta, boiled potatoes and other veggies, on and on. Too, the lid allows steam to escape either through large or small holes OR not. It's no mess pouring and multi-functional. Take a look here at Bed Bath & Beyond for more details.
Last but not least is my apron. I have ruined many shirts and blouses. This makes better sense … especially because it's my Kitchen Getaway apron!