Limoncello Topping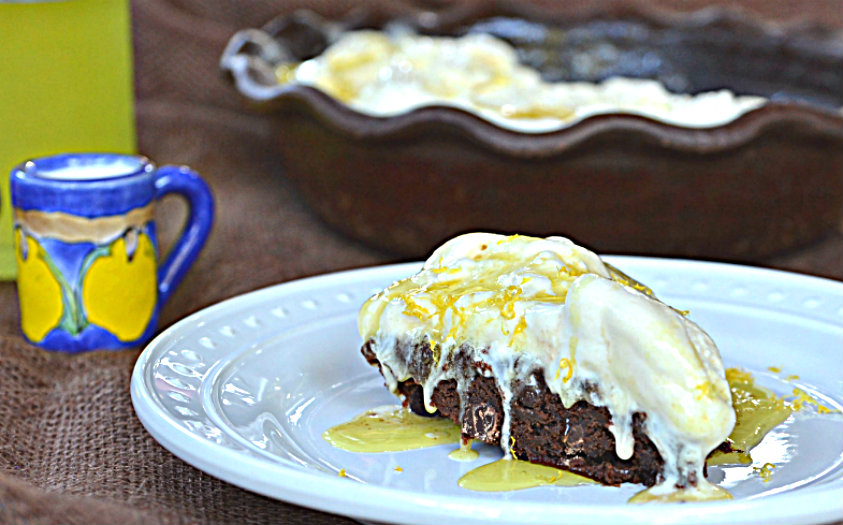 Amazingly simple topping for cakes, cookies, pies, ice cream, fruit, fruit ices, crepes. You get the picture! I love lemon and chocolate … And have served my topping over a brownie crust ice cream pie. Sounds time consuming? Simply bake your brownie recipe in a pie plate, cool, spread with softened ice cream or sorbet, and refrigerate for two hours before serving with the cooled Limoncello topping. That's it! I have a couple of brownie recipes if you need one, Blondies and Brownies. If you use a boxed mix my suggestion is Ghirardelli or Barefoot Contessa just as noted in Cook's Illustrated.
Our ice cream is melting in our 103 heat … So let's get on to the recipe.
Recipe
1/4 Cup Limoncello
1 Lemon (juice, and zest for sprinkling)
2/3 Cup sugar
Juice lemon and add enough water to measure 1/4 cup. If your lemon has 1/4 cup juice, perfect.
Add juice and Limoncello to a saucepan with the sugar and stir to mix.
Heat the saucepan contents over medium/low stirring occasionally to help dissolve sugar.
Once the liquid begins to simmer stirring is not necessary. Allow to simmer 20 minutes. Keep simmer low.
After the 20 minutes remove from heat. This liquid may look thin but when it cools to room temperature it will have the consistency of maple syrup.