Super Bowl Linguica Stuffed Mushrooms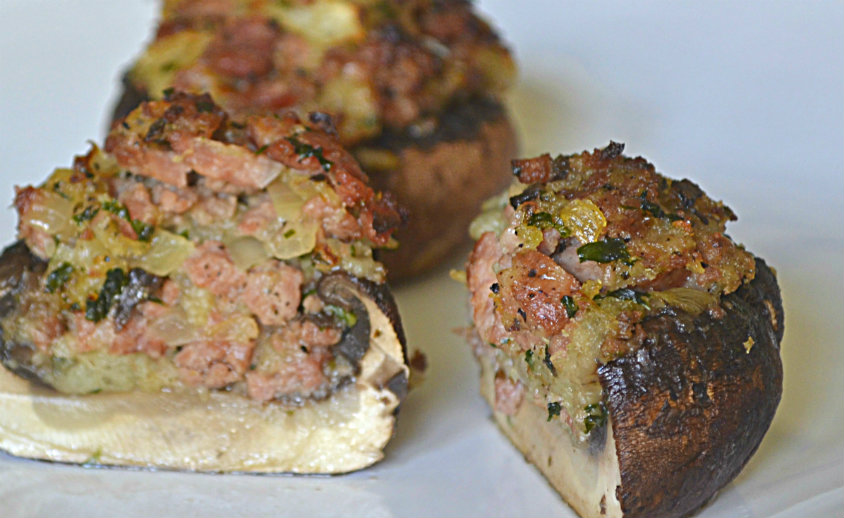 Time for one more Super Bowl Party Recipe, Linguica Stuffed Mushrooms. Stuffed mushrooms are a winning appetizer, and go great with beer! Wine works too. These pictured are not bite size. They are three inch portobellini mushrooms.
Choose the size of mushroom you want to use. Bite size cremini are great for a crowd.
Recipe
Makes 6 large, 3-4 inch, stuffed mushrooms, each being a meal; OR 18 small stuffed mushrooms
Prep time 15 minutes
Baking time 30 minutes at 350 degrees F, oven preheated
6 large or 18 small mushrooms, cremini variety
1 Pound linguica with casing removed and chopped fine
1/2 Medium onion, diced
2 Teaspoons olive oil
2 Tablespoons chopped parsley
1/4-1/2 Teaspoon dried oregano
2/3 Cup fresh bread crumbs, torn small
1/2 Cup chicken broth
Salt and Pepper to taste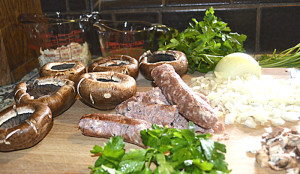 Clean the mushrooms and remove the stems. I cleaned out the gills of the larger mushrooms with a spoon. Chop the stems and set aside.
Dice the onion and sauté with two teaspoons of olive oil over medium heat until limp and tender.
Remove casing from the linguica, Chop linguica fine and add to the onion and cook about 2 minutes.
If there is excess fat, drain. Add the chopped mushroom stems. Cook another minute.
Add all the remaining ingredients and mix. Remove from heat.
Spoon into mushrooms.
Place stuffed mushrooms onto parchment paper covered jellyroll pan or other short lip sided pan.
Place into preheated oven for 30 minutes.
DONE … Hope your team wins!