Linguine and Clams
For Two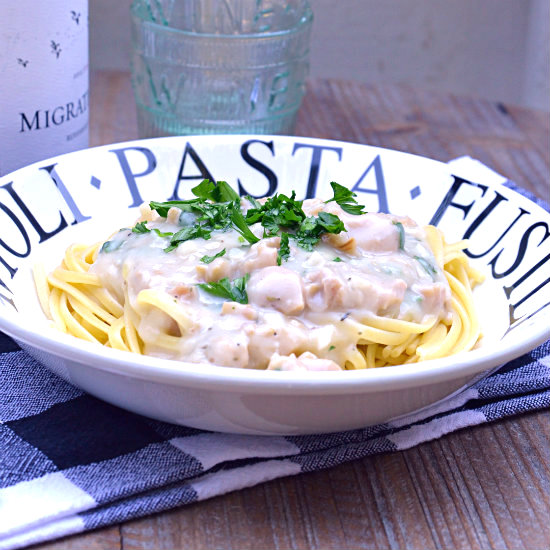 You have 12 and one half minutes to prepare dinner and what do you do? You fix this! My foodie partner and I love pasta but no cream please (for him) … or rarely. This rich sauce has the flavor without the heaviness. If your herb garden is not what you'd hoped just add dried herbs instead. Hope you enjoy this rich tasting Clam Sauce as much as we do. As for the wine I'm a Pinot Noir fan and am guilty about pairing with just about everything. Have you noticed you can see through this varietal when you hold up your glass to light, or maybe not? When you can't it is most likely a blend. Nope, it is my understanding this doesn't need to be on the label. So depending, this varietal can be a little heavier than expected. We're having this wine here. Delicious!
Recipe
1 Clove garlic-minced
1 1/2 Tablespoon of butter-unsalted preferred-clam juice is usually salted well
2 1/2 Tablespoons all purpose flour
1 Cup clam juice (6 1/2 ounce can clams will only have 1/2 cup juice)
6 1/2 Ounce can clams-rinsed and drained (use fresh if available) Canned equals about 1/2 cup.
1 Tablespoon chopped parsley or one teaspoon dried parsley flakes
1 Tablespoon chopped thyme or one teaspoon dried thyme flakes
Splash of white wine (optional)
Pinch of pepper
Taste before adding any salt
4 Ounces of linguine
Cook linguine (while completing the following) according to package instructions in a moderate amount of salt.
Melt butter in a medium sized skillet over medium/low heat.
Add the garlic and stir around for about one minute. Sprinkle the flour over the skillet contents and stir to dissolve.
Slowly add the clam juice to the butter/flour/garlic. Stir to avoid lumps. Turn to low. This will thicken quickly.
Add the drained clams, herbs, wine if using, and pepper. Let heat through.
Pour over drained hot pasta.