London Broil Recipe – Dinner Menu for Family & Friends
Economical Dinner Nice Enough for Birthdays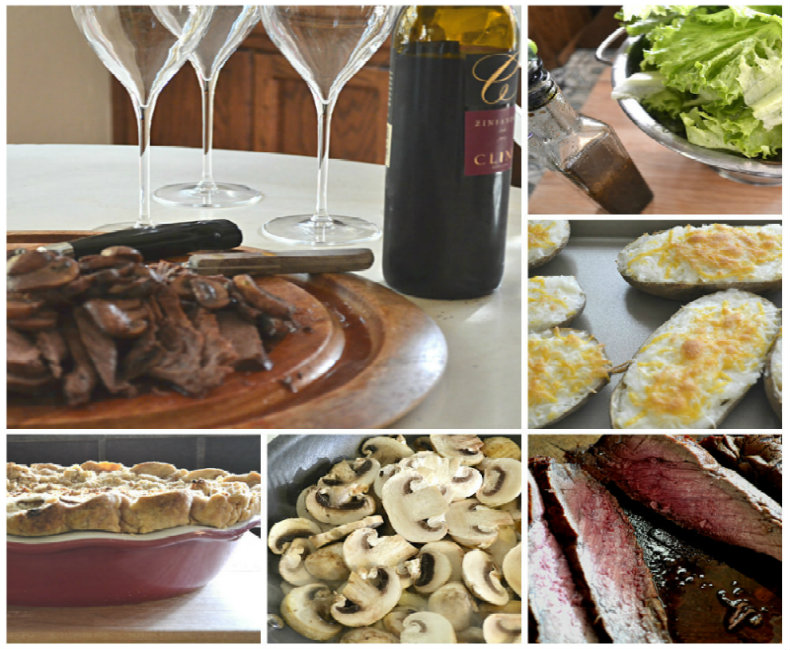 Meat and Potatoes, these guys are still around! And this one is having a birthday today. This London broil meal can be fixed in a jiffy. And is so economical … not to worry about how many guests he brings! Pair it with a good tasting economical wine. This is a London Broil Complete Dinner for Four!
Good cheap wine choices are out there, and it makes good sense to pair this meal with a value wine instead of something you would serve with filet mignon. The wine … spicy Cline zinfandel. All this is a hungry man's delight! Oh, and French apple pie for dessert!
Three recipes here … Well, four if you include the mushrooms smothering the meat … London broil with sautéed mushrooms, twice baked potatoes, and  balsamic salad dressing.
The sequence of putting the meal together could go like this.
Marinate the meat overnight
Make salad dressing up to the day ahead
Potatoes can be made the morning of the dinner. Baking for the last time just before serving.
Put the salad together the morning or afternoon on the same day. Add tomatoes and avocado, if using, as well as dressing just before serving.
Prepare the mushrooms at the time of the meat being broiled.
Uncork your value wine while the meat is broiling. Two bottles for 4 people. Just 20 bucks for two bottles of this wine.
Come join us, wine or beer or even diet cola to celebrate Stephen's birthday!
London broil is a tough cut of meat, flank steak, and should be marinated.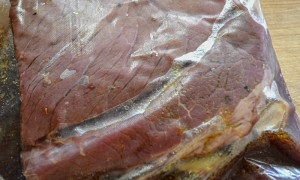 If you have a great marinade recipe … wonderful! I suggest overnight marinating or for at least 6 hours.  Here is the marinade I use:
2 Pounds London broil, serves 4-6
1/2 Cup red wine
1/2 Cup vinegar, red is best
1/4 Cup olive oil
1 Generous teaspoon sea salt
1 Tablespoon worcestershire sauce
1 Tablespoon soy sauce
3 Cloves crushed garlic
After mixing all ingredients well place the meat and marinade in a plastic bag. Squeeze out excess air. Refrigerate until ready to use. Against plastic bags? … Use a covered glass dish small enough that the meat is submerged pretty thoroughly.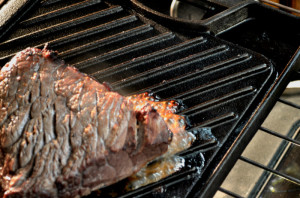 Broil, high, the meat 8 inches from the heat approximately 6 minutes per side for rare … Meat being 1 and 1/2 inch thick.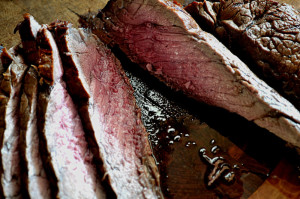 Cut the meat across the grain and thin thin after it has rested for 10 minutes. Serve with sautéed mushrooms.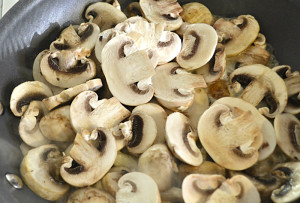 Add two tablespoons of butter to your skillet over medium heat. Add 8 ounces of washed sliced mushrooms, a little at a time to avoid lowering the temperature of the skillet. Yep, I have seen Julie/Julia, Don't crowd the mushrooms. These are a bit crowded. Brown the mushrooms and then add the following ingredients:
1 Clove crushed garlic
Salt to taste, use garlic salt sparingly if you desire
1/3 Cup dry red wine
2 Teaspoons worcestershire sauce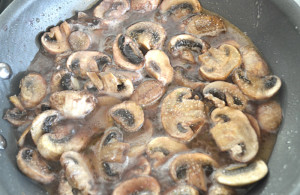 After adding the ingredients continue cooking for several minutes until a little of the wine has evaporated. Smother the sliced meat or serve on the side.
Next The Balsamic salad Dressing
1/2 Cup quality extra virgin olive oil
1/4 Cup aged balsamic vinegar
Here we go with the garlic again. 1 Clove crushed
Salt and pepper to taste
Mix these ingredients and let set with garlic to flavor.
We are purists when it comes to salad with a meal … unless the meal is the salad. The fewer the ingredients the better. Seldom use bag salad for guests or family if I can help it because the flavor is just not there … especially for a salad with nothing else but a variety of leaf lettuces. By the way, lettuce is really a fun vegetable to grow in your garden. Pretty easy when grown in a raised garden away from those pesky snails and slugs.
So, here I used a variety of leaf lettuces with nothing else except this delicious salad dressing. Delish!
Lastly, the Twice Baked potatoes
Plan one whole potato for the big eaters or potato lovers.
Bake the potatoes at 350 degrees F for one hour or until done. Microwave cooking works as well if you have this down.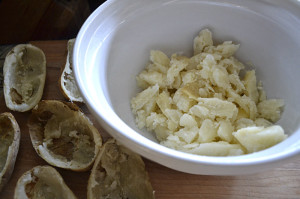 After they are done let the potatoes cool enough to handle. Cut in half and remove the potato inside without disturbing the skin. Leaving a little potato behind in the skin is expected. If you accidentally slice the skin while removing the inside … not to worry. You will be able to form it back together when you add the prepared potato mixture back into the shell/skin.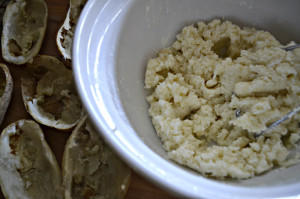 The ingredients here are for 4 potatoes.
Prepare your favorite mashed potatoes with this cooked potato. If you do not have a favorite try mine. Our family, starting with my father, likes mashed potatoes done by hand … Leaving a little texture or lumps if you prefer this term. If your family or you suspect your guests will feel you have done this in error I suggest using a mixer and a little more cream. This smooths the cooked potatoes.
3 Tablespoons butter
1/2 Cup sour cream
1/4 to 1/3 Cup cream or half and half, more for your desired texture
Salt and Pepper to taste
3/4 Cup shredded cheddar cheese or combination cheddar cheeses, and a little extra for the top of each potato half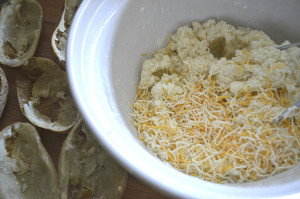 Everything has been mixed together except for the cheese. Now adding the cheese which will not be melting here but will melt when baked a second time. Save a little cheese for sprinkling.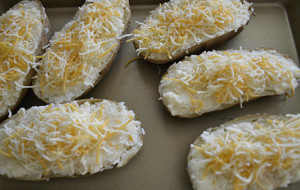 Ready to bake again at 350 degrees F until warm to serve. I suggest setting the potatoes out at room temperature 30 minutes before heating if you have prepared these ahead and they have been refrigerated. The baking will be less and the potatoes will stay nice and moist. Baking time after being set out is about 20 minutes.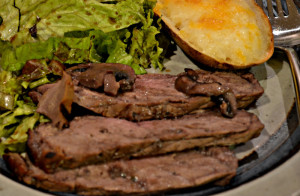 This looks delicious and was!
Birthday Pie is French Apple, Next Post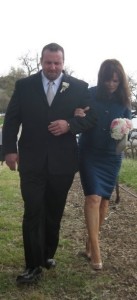 Happy Birthday, Stephen!