Macaroni Salad
Perfect for the Fourth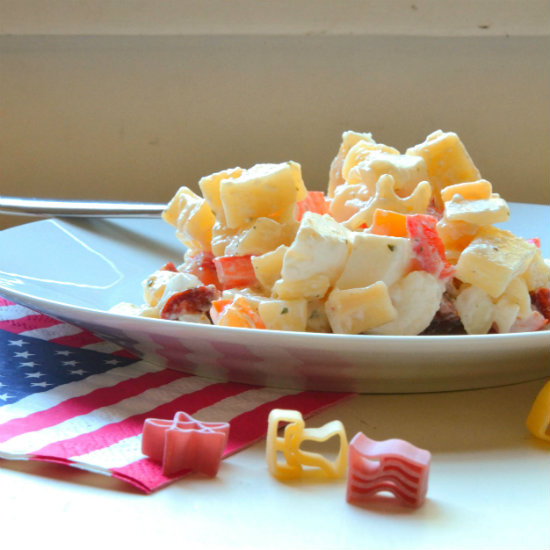 Whatever macaroni or pasta you use this is sure to please those hungry picnickers. Try this patriotic pasta from World Market but don't be surprised when all the color disappears with the cooking. The shapes get a little lost too in the thick dressing. With that said, this is an amazing macaroni salad. That's a bit patriotic too, isn't it? Once you have the pasta chosen, your choice, the rest is really simple. Add or subtract ingredients to cater to family and friends. Delicious!
Recipe
Serves 4
2 Cups uncooked pasta-furrowed pasta shapes are generally better for adherence of dressing
1/2 Cup mayonnaise
1/2 Cup sour cream
2 Tablespoons of ranch dressing mix (the kind that comes in a packet)
1/4-1/3 Cup diced sweet yellow or red onion (or green if you prefer)
1 Red bell pepper-diced
1 Cup diced fresh Mozzarella cheese or 1/2 cup and add 1/2 cup shredded Parmesan
3/4 Cup dry spicy chorizo-diced
Other items you can add or switch out:
Slice olives-black or green
Pepperoni or dry salami in place of chorizo
Green bell pepper
Pimento-chopped
Fire roasted green chilies-just a tablespoon or two
Peas-frozen, slightly thawed
Raw carrots
Raw cauliflower
Cheddar cheese in place of Mozzarella
Mix the dressing first, mayonnaise, sour cream and ranch dressing mix. Set aside.
Cook pasta in salted water until just past al dente according to package directions. Drain and place into a large bowl. Add onion, vegetable ingredients, meat ingredients and stir. Add the dressing and cheese last. Eat immediately for a milder taste or refrigerate for 2 hours and then serve. If you add an abundance of ingredients increase the pasta and dressing amounts.
Enjoy!